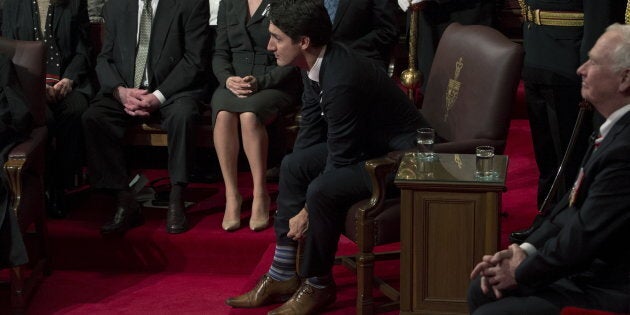 Justin Trudeau is an anomaly when it comes to world leaders. Unlike some of his more traditional counterparts, he's managed to add fashion icon to his long list of achievements.
If you haven't been paying attention, you're probably wondering what he's done to deserve such sartorial praise from Vogue and GQ. The fact is, Trudeau's fashion statements are limited to the occasional pink shirt but the bulk of the attention has been directed at his feet — or rather, his novelty socks.
Off-beat fashion socks started making fashion-forward appearances around 2008. Before that, they were worn exclusively by everyone's eccentric uncle. The PM's affinity for bold sock statements has helped the trend stay afloat when it may have long been buried in the trend graveyard.
And whether or not it was due to our Prime Minister, statement socks are still very much on fashion's radar for 2017. If Vogue says so, who's to argue with Anna Wintour, right? But let's face it, they're just socks.
The truly stylish might even say they're a lazy fashion statement for men. After all, any Tom, Dick or Harry can put on R2-D2 socks in honour of May 4th.
Melissa Austria is a menswear expert and the owner of Toronto-based menswear boutique, Gotstyle. While she sells the very novelty socks we're discussing, she's not necessarily the trend's biggest fan.
"Personally I am over the bold sock look," she says, but still feels there's a place for them — particularly in menswear.
"I would rather guys care a little bit about dressing better with crazy socks. It's sort of the starter drug for fashion. They wear the socks, they get a compliment, then they become more open to try a printed shirt, a more interesting blazer to get more compliments."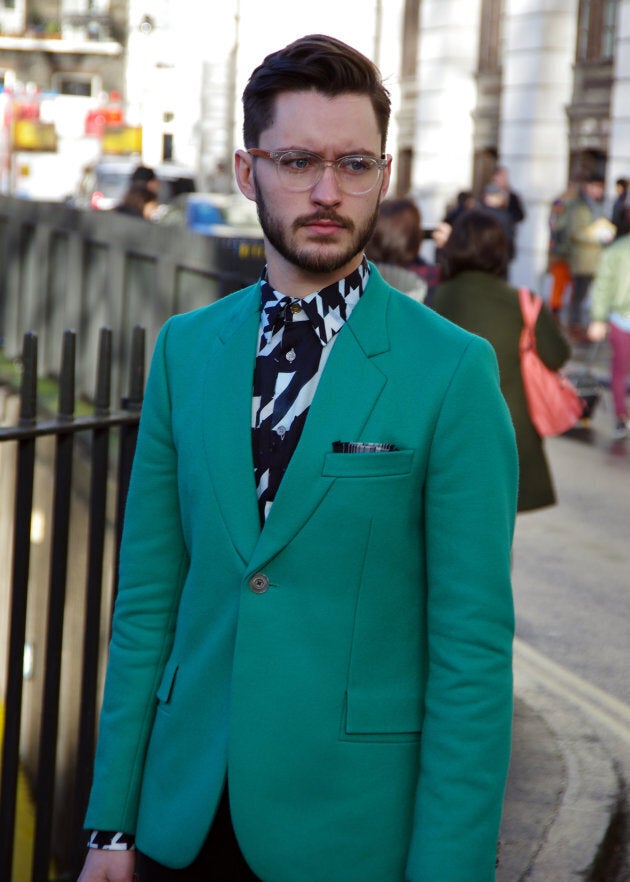 The increasing consumer demand speaks for itself, according to Ryan Cohen, co-founder of funky sock brand, Yo Sox, but he also gives socks a little more credit as a style-worthy accessory.
I've always looked at socks as an outlet for creativity and self-expression.
"As someone who is passionate about aesthetics, I've always looked at socks as an outlet for creativity and self-expression. Rather than dwelling on stigmas or labelling fashion trends, the Yo Sox mantra is all about non-conformity."
For men like the prime minister, whose daily attire is usually relegated to suits, Austria sees another worthy purpose for the fun sock trend.
"I've heard stories of some of my corporate guys being sent home for wearing a pink shirt. So all guys have to show personal expression is their tie, socks and their watch, since the trend for showy pocket squares has slowly died off."
And in the case of Trudeau specifically, he appears to use socks to make political, and not just fashion statements. For Toronto's Pride parade in 2017, which fell on the same day as Eid, he chose a pair of rainbow-hued socks with "Eid Mubarak" written across them in English and Arabic.
″It's all about how we celebrate the multiple layers of identities that make Canada extraordinary and strong," Trudeau said at the event.
There's obviously still room for bold fashion socks, but the tide is turning. Companies like Happy Socks and Yo Sox still offer kooky designs, but this season, for example, they're tending towards fewer novelty patterns and more grownup motifs in bright colours.