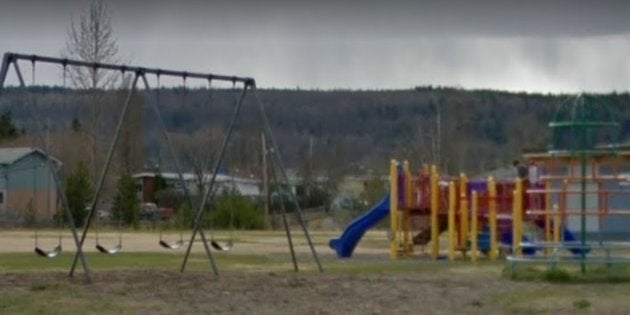 A Prince George daycare owner is earning praise after she used mixed martial arts moves to fight off a man allegedly attempting to abduct children from a playground.
The incident happened after Chelsi Sabbe took six children, aged one to seven, to the Harwin Elementary School playground on Tuesday morning. Most of the children were on the equipment, but two were further away on a seesaw when Sabbe said she noticed a man entering the play area.
"Oh there was not a chance in hell, pardon my language, that he was getting away with one of my kids," she told HuffPost Canada in an interview Thursday.
She immediately rushed closer to the children, but the man beat her there — grabbing a three-year-old boy.
She chased and caught up to the man, wrapped her arm around his neck until they both fell and he let go of the child.
Oh there was not a chance in hell, pardon my language, that he was getting away with one of my kids.
The man snatched a five-year-old boy next, Sabbe said. But this time she kicked him, causing the man to fall. She hit him in throat and said she took a punch in the process.
She yelled for help during the whole ordeal and told the other children to climb as high as they could on the playground equipment.
The man got up from the ground and tried to grab a seven-year-old girl next, but Sabbe pushed the man off the playground equipment. He continued to punch at her.
A woman in a house nearby eventually heard Sabbe's cries and opened her door. Sabbe grabbed the man and held him in a headlock and told the kids to run to the neighbour's house.
The neighbour called the police and kept the children inside with her.

"The kids were amazing. I had a seven-year-old and a five-year-old with me. The five-year-old had just gotten out of this guy's arms, who was telling him 'Hurry up, let's go! Hurry up, come on,'" she said, adding that the older children helped the younger children to safety. "It was just unreal."
After the neighbour yelled that police were on their way, the man wriggled himself out of Sabbe's grip and ran away. The police arrested a suspect a short time later.
Abduction suspect identified
Kenneth John, 35, of Prince George faces two counts of kidnapping and one count each of assault and obstructing a police officer.
Police said they received a report about another attempted abduction of a boy nearby. The suspect fit the same description as the earlier report.
Sabbe said she was shaken up after the attempted abduction, and spent a few hours in the hospital getting her bruises checked out.
As soon as she said 'the police are on their way,' he is wrestling. He is wrestling hard...he does get out and he starts running.
It had been years since Sabbe used her MMA skills. She said her father, a kickboxing instructor, had taught her moves. The community rallied around her after the foiled abduction, she said.
After the whole ordeal, Sabbe said the one piece of advice she has is for other caretakers of children: wear a fanny pack or small bag that can't be knocked loose with a phone, tactical flashlight and emergency consent cards packed inside.
With files from the Canadian Press