A van rammed into pedestrians on a popular tourist street in Barcelona Thursday afternoon, killing 13 and injuring more than 100.
Authorities have arrested two suspects, but the driver of the van is still at large.
Car and truck attacks have killed more than 100 people across Europe in recent years.
In Cambrils, 70 miles south of Barcelona, police said they killed four suspects and injured one in what may be an additional attack.
Police said they are investigating possible links between those killed in Cambrils, the attack in Barcelona, and an earlier explosion in the town of Alcanar, 120 miles from Barcelona.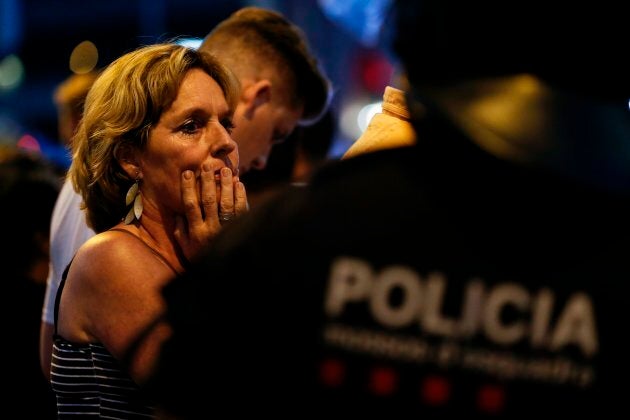 Terrorist violence engulfed a popular tourist thoroughfare on a sunny afternoon in Barcelona, Spain, Thursday when a white van plowed into pedestrians, killing at least 13 people and injuring more than 100 others.
The attack left dozens of people bloody in the streets and prompted others to run from the area, terrified for their lives.
The van "was weaving left and right, trying to hit people as fast as possible," a witness told the BBC.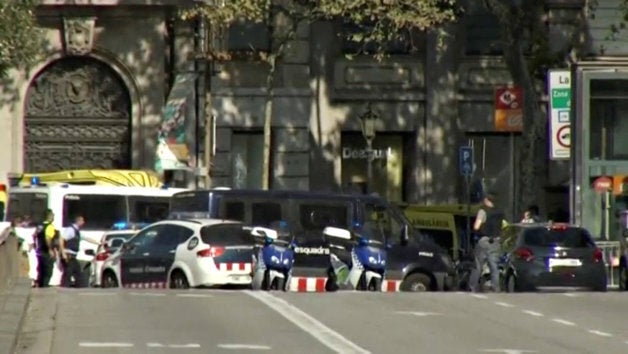 Two suspects were arrested, Catalonia President Carles Puigdemont said. The driver of the van, however, was still at large as of 11 p.m. local time, according to a tweet from police.
Police said they were investigating possible links between those killed in Cambrils, the attack in Barcelona, and an earlier explosion that destroyed a house in the town of Alcanar, about 120 miles from Barcelona.
The self-described Islamic State claimed responsibility for the Barcelona attack via its Amaq news agency. However, it is unclear to what extent, if any, the group's leadership was directly involved. Police said the incident was a terror attack, but later tweeted they could not confirm the driver's motive.
The attack occurred on Las Ramblas, a historic street leading to a central plaza in Barcelona. A pedestrian walkway runs down the center of the street, with cars driving on either side.
"There was loud bangs and people started running into shops," witness Ethan Spibey told Sky News, describing a "mini stampede" of people running down an alleyway.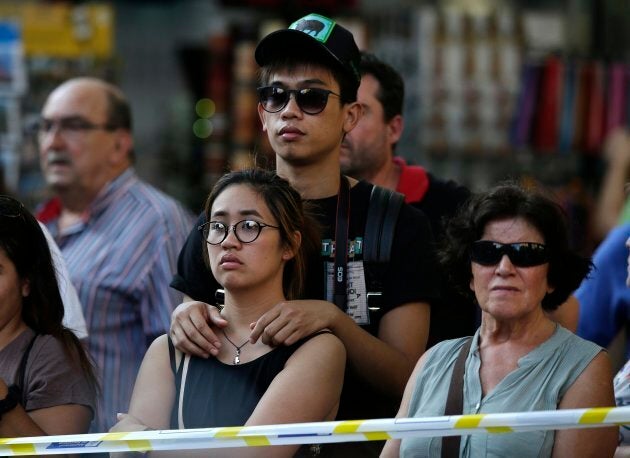 Authorities immediately locked down the area, shutting metro stations and asking businesses to close.
Spibey said he was locked into a church with as many as 60 other people, waiting for police to clear the area.
"I heard a crowd screaming," said Tom Markwell, a tourist from New Orleans. "It sounded like they were screaming for a movie star."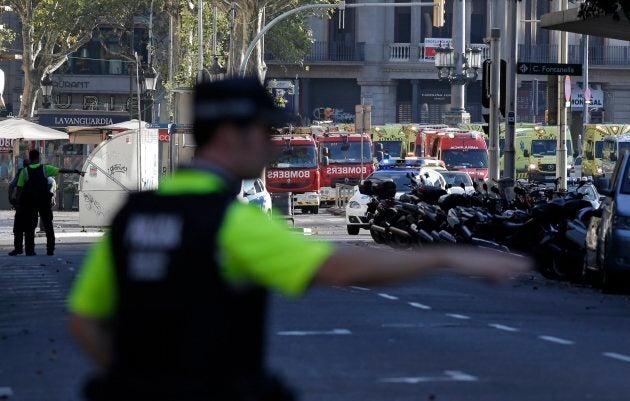 Authorities arrested suspects in Ripoll and Alcanar, towns in Catalonia. One is Moroccan and the other is a Spanish national from Melilla, a Spanish city on Africa's north coast that neighbors Morocco, police Chief Josep Lluis Trapero said in a news conference.
Prime Minister Mariano Rajoy urged people to focus on serving the wounded and facilitating the work of authorities. He later tweeted that he was heading to Barcelona, and said the government would take measures to reinforce security. The government declared three days of mourning.
The attack was the deadliest in Spain since 2004, when al Qaeda-inspired militants detonated bombs on Madrid's subway system, killing 191 and injuring more than 1,800.
Car and truck attacks have killed more than 100 people in separate incidents across Europe in recent years. Extremist groups have long advocated for their supporters to use vehicles to target pedestrians, and authorities have struggled with ways to address the threat.
The majority of the recent attacks in Europe were carried out by Islamic State militant group sympathizers, and the organization has actively incited individuals to kill people with vehicles. In the deadliest of such incidents, the Islamic State claimed responsibility after a man drove a truck into a crowd celebrating Bastille Day in the French city of Nice and killed 84 people.

World leaders issued condemnations of the attack, as well as offers of support for Spain. British Prime Minister Theresa May, French President Emmanuel Macron and German Chancellor Angela Merkel all voiced their sympathy for the victims.
President Donald Trump also tweeted a statement on the attack, saying that United States would do whatever is necessary to help. But shortly after his measured initial statement, Trump tweeted a tirade against "Radical Islamic Terror" and referenced an apocryphal story he's told in the past about killing Muslim insurgents with bullets dipped in pig's blood.
More from HuffPost Canada: