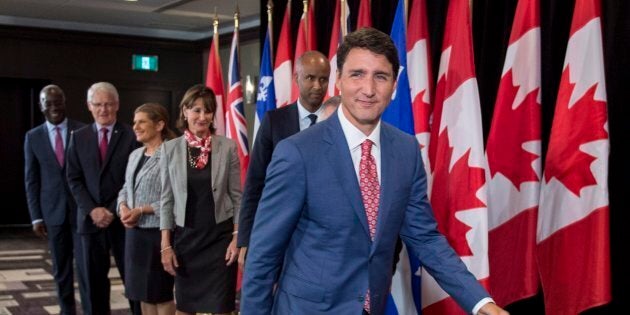 OTTAWA — The federal government is transparently lying to potential asylum seekers by saying there are "no advantages" to coming across the border illegally, the Canadian Council for Refugees says.
Emmanuel Dubourg, the Liberal MP who was sent to Miami to discourage Haitians from travelling to Canada to claim asylum, told reporters Friday that he has been telling them "there is no advantage" to coming to the country irregularly.
But Janet Dench, the executive director of the Canadian Council for Refugees, told HuffPost Canada that Ottawa's plan seems "like a strange strategy, because it is so obviously false."
"The reason that people come irregularly is because that is the way to avoid the Safe Third Country Agreement. I don't understand on what basis you could say you don't have an advantage by doing it. I mean, the advantage is you can make a claim [while] you would be immediately found not eligible if you presented yourself at a point of entry," she said.
Under the 2004 Safe Third Country Agreement, individuals who try to enter Canada via the border with the United States are denied entry on the grounds that they should be applying for asylum there instead.
Since July, more than 6,000 people have crossed the Canada-U.S. border illegally. Most of them, 80 to 85 per cent, according to Canada Border Services Agency (CBSA) estimates, are Haitians who were granted temporary protected status in the United States after a devastating 2010 earthquake but who now may face the likelihood of being deported back to their homeland in January when their status expires.
The reason that people come irregularly is because that is the way to avoid the Safe Third Country Agreement. I don't understand on what basis you could say you don't have an advantage by doing it.
The Liberal government is "committed to orderly migration" and would like to stem the flow, Dubourg told reporters. The Creole-speaking MP was sent to Florida to counter misinformation in the community that, he said, suggests Canada gives a free pass to asylum seekers.
"This is absolutely false and is leading to misguid[ded] decisions," he said. "There are no shortcuts.... There are no guarantees that asylum seekers will be able to stay in Canada."
"Crossing the border irregularly only invites unnecessary risks, and there is no advantage from that. It must be clear for everyone: Entering Canada outside of an official port of entry is against the law. It can only present safety risks...."
"There are other ways to do it," he added, in French.
"There is no advantage to crossing the border in this way," he repeated.
Hondurans, Salvadorans face possible deportation in U.S., too
There are approximately 58,000 Haitians in the U.S. with this temporary status. Dubourg noted that other groups also facing upcoming deportation next year may be watching how Canada handles the situation and what the chances of success look like.
"All of the measures that we are taking now, other groups are listening to that," Dubourg said. "It is important to all communities to know exactly well, they have to be informed on the immigration Canada system."
The problem for the would-be immigrants, however, is that there are no other ways for those Haitians — and possibly the Hondurans and Salvadorans in the United States — to claim asylum in Canada.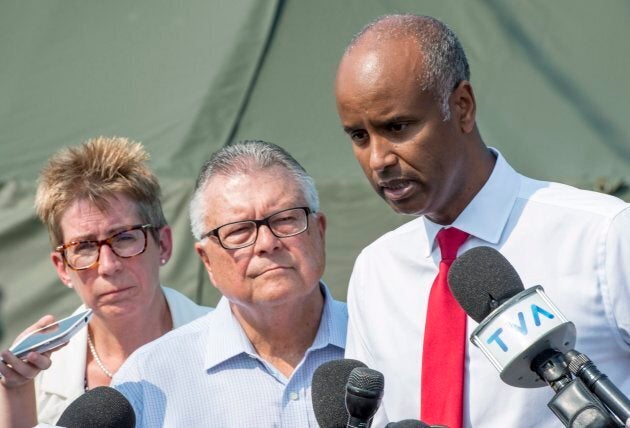 Immigration, Refugees and Citizenship Canada Minister Ahmed Hussen repeated the same phrase on Friday, telling CBC's "Power and Politics": "There is absolutely no advantage to you doing that, because you will not get any refugee advantage by going through irregular process. It is potentially dangerous, you will be apprehended and you will not have an advantage over other claimants."
Dench told HuffPost it happens regularly that people who are rejected for refugee status in the United States are accepted as refugees in Canada.
"The point that the government is making — that people don't get an advantage by crossing irregularly — seems so bizarre in that it is so clearly false," Dench said.
Asylum seekers who cross the border illegally, or irregularly as Trudeau described it this week, are not given an advantage over refugees who come to Canada through formal channels. Those quotas are set yearly and are not affected by the number of would-be claimants who show up at the border.
Access to social programs for basic necessities
But asylum seekers do place a strain on the system. They must be screened by the RCMP, their claims recorded by the CBSA, and eventually they are heard by the Immigration and Refugee Board. Currently, the waiting time for a hearing at the IRB is 6½ months and growing, officials at the board say.
While they wait for their hearing, they have access to social programs to help provide basic life necessities.
Dubourg, Hussen and Trudeau this week stressed that only 50 per cent of claims from Haitians in 2016 were accepted.
Canada's own temporary protected status program for Haitians expired in August, 2016, and a temporary stay of removals was lifted on March 16. Since then, CBSA told HuffPost, 296 individuals have been returned to their homeland.
'It is not a good situation'
"The concern we have is that obviously the way ... U.S. policies seem very harsh and unfair to refugees in contrast to [the way] that Canadian policies have seemed to be kind and gentle, so that people could be misled into thinking that that means coming to Canada means that it is going to be a welcome for us," Dench said. "But the fact is, if you don't meet the refugee definition, making a claim here is really a fairly fast boot to deportation back to Haiti, in the case of Haitians."
Dench thinks there is a political risk for the federal government in that, with so many Haitians in the United States coming up to Canada, where their claims may be denied, the Liberals will be seen as doing "the dirty work" for the United States.
"If they come up and Canada is doing the deportations instead, what is Canada's complicity? ... It is not a good situation."