NANTERRE, France — A French court on Tuesday fined photographers and gossip magazine executives over topless photos of the Duchess of Cambridge. The court also ordered the defendants to pay damages to the duchess and her husband Prince William, but the amount was significantly lower than that sought by the royal family.
The court in a Paris suburb ruled Tuesday that three photographers and three newspaper executives invaded the privacy of the duchess, formerly known as Kate Middleton, by taking and publishing the photos.
The office of the Duke and Duchess of Cambridge says the British royal couple is pleased a French court ruled in their favour in the lawsuit.
Kensington Palace said in a statement Tuesday that the matter is now closed.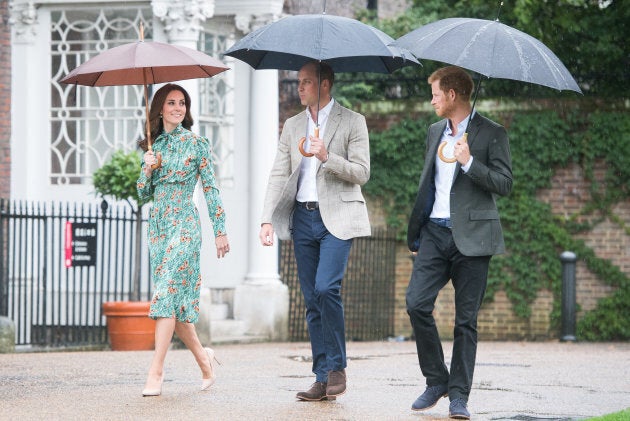 The palace says the royals believed the publication of the photos amounted to a serious "breach of privacy" and that legal action should be pursued.
The duchess and her husband, Prince William, "wished to make the point strongly that this kind of unjustified intrusion should not happen."
Two executives of French gossip magazine Closer were each given the maximum 45,000 euro ($53,500) fine for such an offence.
In addition, the two executives, along with two photographers working with a celebrity photo agency, were collectively ordered to pay 50,000 euros ($59,500) in damages to Kate and the same amount to William.
Keep Up With The Royals

Get our weekly email round-up of all things Royal.
The amount is far below the about 1.5 million euros in damages sought by the royal couple. Their lawyer Jean Veil said it will be up to Kate and William to interpret the outcome.
Paul-Albert Iweins, lawyer for Closer magazine, called the fines exaggerated.
The couple, who didn't attend the verdict, had filed a complaint after the photos were published in Closer and a regional newspaper in 2012, the year after their wedding.
The pictures of Kate were taken with telephoto lenses while she and her husband apparently were sunbathing on a patio at a private estate in France's southern Provence region.
The timing of the ruling had particular resonance in Britain. Last week marked the 20th anniversary of the death of William's mother, Princess Diana, who was being pursued by paparazzi before the car accident in which she was killed.