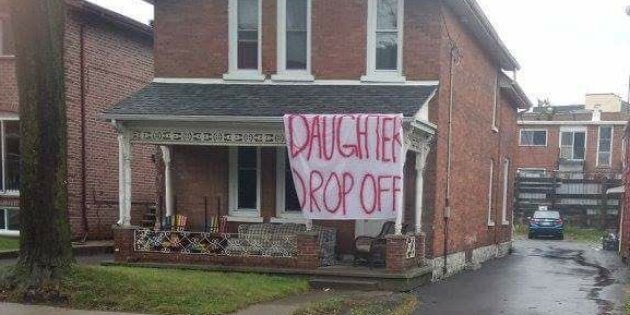 Kingston, Ont. residents were greeted with a startling sight during Queen's University's move-in weekend.
"Daughter drop off" proclaimed a bedsheet hanging outside a Brock Street house on Labour Day.
A photo of the sign on the house was shared on social media, prompting reactions from many people, including the university's principal and vice-chancellor Daniel Woolf, who called it "inappropriate and offensive."
"I've been working at Queen's since 1996 and we've seen repeatedly every year signs of this nature or worse," Susan Lord told the Kingston Heritage. "Queen's has a very strong policy around having a safe campus community and signs like this promote a lack of safety for women on campus."
Lord organized a protest at the house which was attended by about 20 people. No one was home, but demonstrators left messages for the tenants.
Mike Young, 24, is a Queen's grad who now works in the university's human rights office. He said the conversation created by the sign around university "rape culture" comes on the heels of a controversial sentencing.
Queen's student Chance Macdonald pleaded guilty to assaulting a 16-year-old girl earlier this year. A judge pushed his sentence back by four months so that he could keep an internship, according to the Kingston Whig-Standard.
"It was a tricky time to be delving into conversations about rape culture on campus and that was one of the most unifying social media responses I've seen where people from all sorts of different ideological backgrounds were agreeing for the first time, it seemed, and that was really empowering," Young told HuffPost Canada in an interview.
Young added that he didn't think Queen's students actively sought to perpetuate "rape culture," but that they had a bad habit of "glossing over how people feel, glossing over the consequences to their actions or their words because they feel that everyone is just hypersensitive and it's just this [political correctness] culture and it has nothing to do with reality so we're not even gonna listen to how people are feeling."
The sign was soon removed after people called both campus security and Kingston police.
Woolf told Global News that university security had visited the house with the sign and filed a non-academic misconduct complaint.