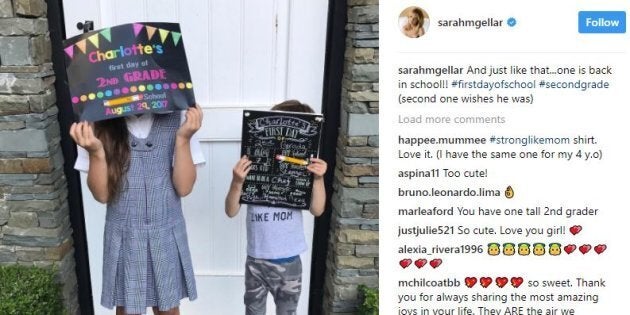 While the first day of school can be bittersweet for some parents (since it's a gentle reminder that their children are growing up fast), for others, the occasion is one of their proudest moments as a parent.
Last year, for instance, Neil Patrick Harris and his husband David Burtka sent their twins, Gideon and Harper, to their first day of kindergarten.
"Their brains are about to explode with new ideas!" he told People magazine at the time. "Reading words and sentences, choosing books and reading what they want to learn, experiencing teachers and having them teach them about something in a way that I couldn't, that would make them excited about something. I'm pretty hopeful right now. It's a good time to be alive."
1. Jennifer Lopez
The singer's twins, Max and Emme, are now nine years old and starting Grade 4. Lopez had her kids with ex-husband Marc Anthony.
2. Jessica Simpson
Simpson's daughter Maxwell is five years old and starting kindergarten. Simpson and her husband Eric Johnson are also parents to a four-year-old son named Ace.
3. David & Victoria Beckham
Back in August, David Beckham dropped off his eldest son Brooklyn at Parsons School of Design in NYC, where the 18-year-old is starting his first year.
Brooklyn is the eldest of three siblings: Romeo, 15, Cruz, 12, and Harper, 6.
4. Jessica Alba
Jessica Alba and Cash Warren's daughters are growing up fast! Honor, 9, is now in Grade 4 and Haven, 6, is in Grade 1.
5. Elton John & David Furnish
The celebrity couple sent their boys, six-year-old Zachary and four-year-old Elijah, off to school earlier this week in matching uniforms. Too cute!
6. Kelly Ripa
The "Live with Kelly and Ryan" host can't believe her baby boy, 14-year-old Joaquin, is starting high school this year!
Ripa and her hubby Mark Consuelos also have two other children: 16-year-old Lola, who is already in high school, and 20-year-old Michael, who is in his second year of college.
7. Sarah Michelle Gellar
The former "Buffy the Vampire Slayer" star and her husband Freddie Prinze Jr. have two kids, but only one is starting school. Seven-year-old Charlotte started Grade 2 this week. The couple's son, Rocky, is five.
8. Busy Philipps
The 38-year-old actress shared a hilarious photo of her nine-year-old daughter Birdie and her best friend after completing their first week of Grade 3.
Philipps' youngest daughter, four-year-old Cricket, is now in her last year of preschool.
9. Sarah Jessica Parker
Thursday marked the first day of school for the former "Sex and the City" star's eight-year-old twins, Tabitha and Loretta.
Parker and her husband Matthew Broderick also have a 14-year-old son named James, who is starting high school this year. Time flies!
10. Katherine Heigl
The actress' daughters headed back to school this week. Nancy Leigh, 8, is starting Grade 3, while Adalaide, 5, is starting kindergarten.
Heigl and her husband Josh Kelley adopted both their daughters. They also have a biological son named Joshua, who was born in December 2016.