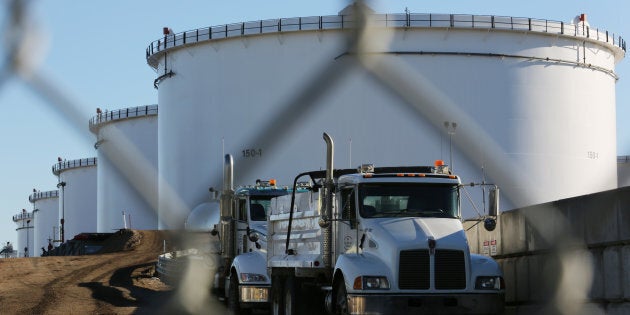 Most Canadians, across the country and across political stripes, hope that demand for oil will decrease in the coming decades. They agree on something else, too: that building new pipelines is OK.
Even in Alberta, where drops in oil prices hit workers hard, nearly half want to see demand for oil decline in 30 years. More than half of Conservative voters said the same thing.
"Energy, pipeline and climate issues have been among the most highly charged political debates in Canada for several years," wrote Abacus Data chairman Bruce Anderson in a press release. "What we are seeing in our numbers now is an evolution of opinion: concerns about climate change have deepened, and belief that the world is going to transition away from oil has grown."
Here's the catch: Canadians believe we should ramp up investment in renewable energies, while at the same time continue to drill and sell our oil, even if that means building new infrastructure to do it.
A majority — 80 per cent — feel either positively or neutral about new pipelines. Negative feelings haven't grown in the last three years, but more people are now taking a neutral stance.
Alberta residents and Conservative voters are much more likely to see new pipelines in a positive light. But even in those demographics, large numbers said that mounting worries about climate change are changing their views on oil. A majority of Canadians agreed with that notion, including 48 per cent of Albertans and 35 per cent of Conservative voters.
"Attitudes about oil are increasingly being shaped by concerns about climate change and also a sense that energy innovation is happening quickly and that Canada cannot afford to fall behind this trend because of a reliance on oil," the study said.
Abacus Data conducted its survey online among a random sample of 2,036 participants, chosen from a representative panel of 500,000, between Aug. 4 and Aug. 7.
The polling industry's professional body limits statements on margins of error for online surveys, but Abacus says a comparable probability-based random sample would have a margin of error of plus or minus 2.2 percentage points, 19 times out of 20.