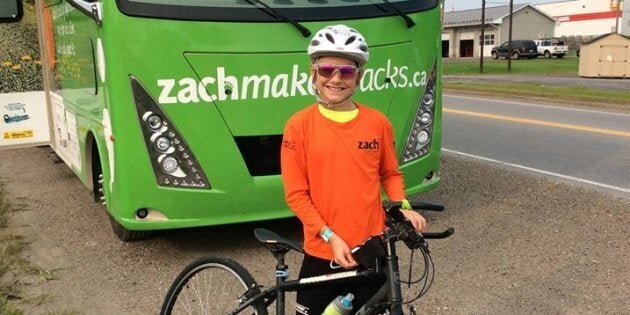 Could you really say no to your child if they said they wanted to run across Canada to raise money for mental health?
After experiencing the struggles of his family and fellow classmates firsthand, and pleading with his mom to let him help, 13-year-old Zach Hofer of Barrie, Ont. finally got his wish this summer.
He raised over $70,000 for a new child and youth mental health inpatient program at Barrie's Royal Victoria Regional Health Centre (RVH).
His initial goal was $10,000.
"I've seen my mom struggle with mental health," Zach tells HuffPost Canada. "And she taught me that it doesn't have to keep you from having an awesome life. And I've had a few friends in school that struggled too. I wanted to help them by making sure they could get the help they needed.
"And our hospital doesn't have what the kids need yet but they're working on it and it's almost here. In November they will open the new wing for kids' mental health. I want to keep helping them."
I wanted to help [my friends] by making sure they could get the help they needed.
Barrie is part of North Simcoe Muskoka, the only region in Ontario without dedicated child and youth mental health inpatient beds. Thanks to Zach's help, construction is now well underway on RVH's eight-bed inpatient unit, which is scheduled to open in late 2017 and will care for up to 300 youth each year. A comprehensive day program will provide an additional 3,000 outpatient visits annually.
"Zach is an inspiration to all of us," says Janice Skot, RVH President and CEO. "We are all so impressed and humbled by Zach's drive and determination and we've told him repeatedly, he is making a difference for kids with mental health needs."
Zach's trek culminated on World Suicide Prevention Day. According to the Canadian Association for Suicide Prevention (CASP), 210 people in Canada attempt suicide each day. CASP is calling on the federal government to enact a national suicide prevention strategy.
CASP's website notes that "Canada remains one of the few industrialized countries that has yet to follow the recommendations of the World Health Organization and the United Nations to establish a national suicide prevention strategy."
Zach hoped to be greeted on Parliament Hill by Prime Minister Justin Trudeau and even wrote a letter inviting the PM to join him in his run.
"I was wondering if you can meet me in Ottawa when I finish my run," wrote Zach. "I will do this run with you or without you so I am asking for help."
The letter was displayed on the outside of a donated 40-foot RV which followed Zach throughout his journey, containing Shelley, his stepdad Derek, his grandparents and his dog Lokie.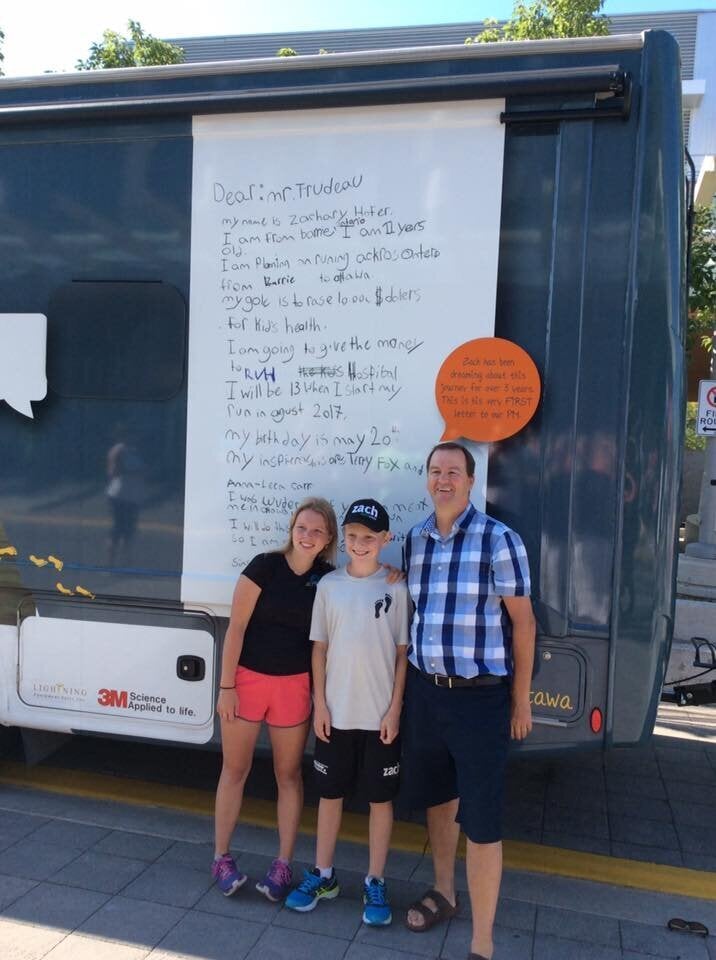 Unfortunately, Zach wasn't greeted by Trudeau, but hundreds of family members, friends, fans and supporters were there to cheer him on as he crossed the finish line, including Barrie-Springwater-Oro Medonte MP Alexander Nuttal, who biked the last few kilometres with Zach.
"Huge crowd here to welcome @ZachMakesTracks to Parliament!" Nuttall tweeted. "What an incredible journey. I can't wait to see what Zach does next!"
Zach did, however, get to meet Mr. Trudeau the day after completing his run.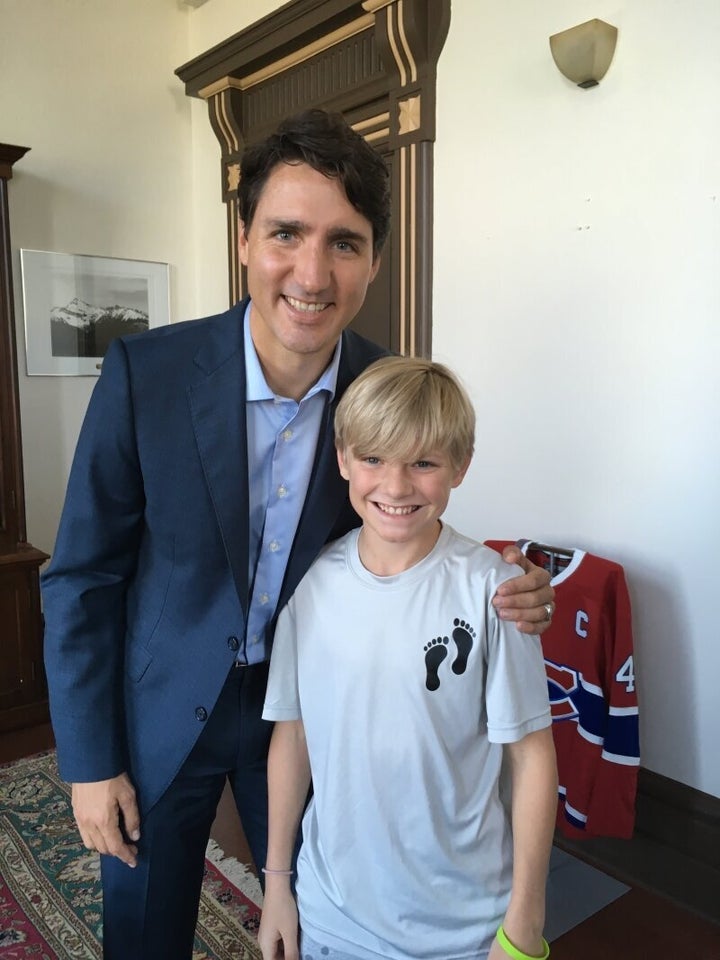 "I'm incredibly proud of Zach," says Shelley. "So proud to see him grow through this and to also learn to express his own limits and boundaries. The focus was on mental health, so we tried hard to keep 'checking in' and make sure there was enough of a balance for him between 'work' and play."
"We read every message he receives to him via social media. I heard him say that he felt good because he got a message from a mom who thanked him for giving her a reason to talk to her three young kids about youth mental health and helping your community. It's been absolutely incredible to watch this little man see a need in our community, create a dream, and have the grit and determination to finish it."