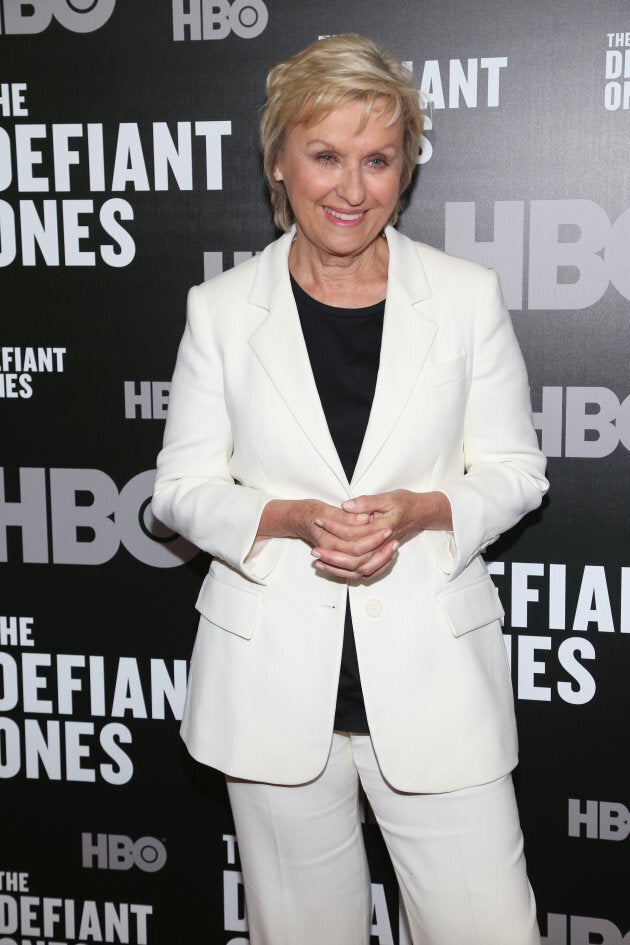 "We are thrilled to bring the Women in the World Summit to Canada, the country that currently leads the world in its commitment to progressive ideas and action," Brown said in a statement. "We hope this is the first Summit of many in a city where inclusion, global outreach and creative energy is so powerfully evident."
Headliners of this year's event include Angelina Jolie, who will talk about her latest directorial effort "First They Killed My Father," as well as Prime Minister Justin Trudeau, who will discuss his efforts to support women's issues.
To mark the Women in the World Toronto Summit, which is being held today, Mon, Sept. 11, HuffPost Canada caught up with Brown to get her views on all the feminist hot topics of 2017, from how she deals with internet trolls to which quality is most important in a feminist partner.
Naturally, Brown gave us spicy, no-nonsense responses that every feminist needs to read.
On how to deal with internet trolls
"The only way to deal with internet trolls is to be really witty and funny in response if you're not going to ignore them. If you're going to respond, then you need to be like Mary Beard, the great British feminist. She had a fabulous internet duel with her troll when he called her 'unspeakable ugly' on TV. She actually ended up taking him out for dinner and becoming his mentor, which I actually love. So I think the way to really [deal with trolls] is with humour. You've got to come back at them with jokes."
On the best-case scenario for maternity leave
"I personally would like to see a gradual approach to maternity leave. Yes, give me my three months off, but I could have even taken two. And then I would have liked to have taken graduating weeks at critical moments throughout the year, so that I might work two weeks and then a week off, three weeks and then a week off for another 18 months.
"What happens when you're a young mother is that everybody is focused on those first few weeks, and that's very important, but it gets more and more difficult. And as your baby gets more aware of who you are, they get more demanding and [need you more]. One gets very crazy, [so] to be able to suddenly dial back and say, 'Oh my god, I know that in a week's time I can take a week off and I can really get grounded again and be with my kid,' that would be the better way for me. I would prefer to have it gradual like that."
The most important thing a feminist partner can do is give me my own space.
On what makes a great feminist partner
"The most important thing a feminist partner can do is give me my own space. We always need our own time where we do our own things ... and there's nothing more stifling to emotional growth than possessiveness on a partner's side. That doesn't mean you want your partner to be indifferent, but I think possessiveness in friendship or lovers is a very corroding thing." (Editor's note: Brown has been married to Harold Evans, a media heavyweight in his own right, since 1981.)
On why women shouldn't be afraid to be ambitious
"Frankly, I think that's craven. Basically, life requires courage and if you don't have the courage then don't tell me you should have done something. I was struck by the fact that a major Labour figure in London [editor's note: former deputy leader Harriet Harman] said had she run for office, she would have won, but she didn't run because she didn't think she'd be able to. And I thought, well okay, then you wouldn't have won.
"You don't win if you don't run. So if you want to win, then you have to run and that's in any sphere. It means you have to set out and say, 'Okay, I'm going to give it a try and I may fail.' It's painful failing, but as someone who's been both successful and not successful, I've learned much more from flops than from success."
As someone who's been both successful and not successful, I've learned much more from flops than from success.
On the age women really come into their own
"This is a great age, but I'm 63 and I'm not suggesting you've got to wait that long. I did find — as much as I adored raising my two children with whom I'm extraordinarily close — juggling children and career enormously stressful, [but] when you finally get through it and your kids are flying off on their own, that's a great moment because you can finally turn around and say, this is all about what I want to do now.
"It is really liberating to find that one can travel and accept things you could never accept before, which is frankly really hard to do when you're a young mom. So as much as I regret not being 40 anymore, I have to say I'm probably a lot more relaxed and a lot happier than I might have been in those days."
On what people can do today to make the biggest change for women's lives
"Run for office. Just get out there and stop sitting around saying, 'If only there's this or that.' Either run for office or actually join an activist organization that is moving the needle on one issue. It doesn't matter what issue it is. Use your expertise or run for office."
On the feminist role model young girls and boys should look up to
"I think Adele is a fantastically authentic, great woman who is all about the authentic use of her talent and has big heart. When the big fire in London happened, the Grenfell Tower, she did not hesitate to go out there or have any kind of anxiety about what she should be saying or doing. She just went straight to Grenfell Tower because she knew those people were her people, that she had been a single mom living with her mother in an apartment block just like that. So I think Adele is a really fabulous woman to think about."
On the one thing affecting women she wish she could change