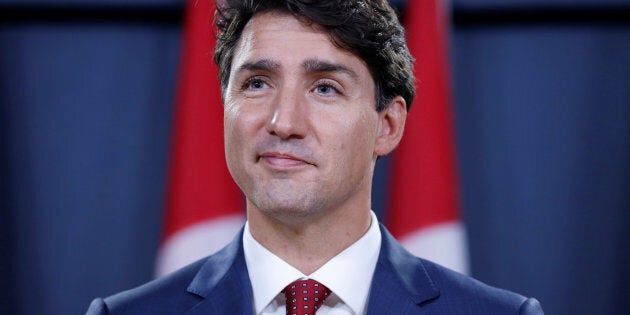 The prime minister gave no advice for Canadians on Tuesday on what they should say to U.S. border guards if they're asked, "Have you ever smoked weed?"
The question, prefaced with Prime Minister Justin Trudeau's own past use of marijuana, garnered some laughs by reporters gathered in Ottawa's National Press Theatre.
Trudeau, who was scheduled to fly to New York City later in the day to attend the United Nations General Assembly, responded by touching on the topic of Syrian refugees and asylum seekers.
"One of the things that I think Canadians appreciate is that we don't let other countries or other leaders dictate who or how we let people into our country," he said, making mention of Canada's "strong and rigorous immigration system."
He mentioned how Canada and the U.S. are sovereign nations before moving onto another topic.
"We have a system that we apply to people arriving in this country, and we will not take direction from anyone else on how we should make decisions about who we let into the country," he said.
"So I'm not going to tell Americans how to make decisions about who they let into their country either."
Reports suggest honesty may not be best policy
His comment comes amid reports of Canadians being denied entry into the U.S. because of their history of marijuana use and the country's move to legalize the drug.
B.C. resident Matthew Harvey was hit with a lifetime ban from entering the U.S. after he gave a honest answer to a U.S. Customs and Border Protection agent who asked about his marijuana use in 2014.
"Of course I'd smoked marijuana, Canada didn't even have a program back then. I smoked marijuana recreationally. I guess I should have basically lied because now I am inadmissible apparently," he told CBC News last year.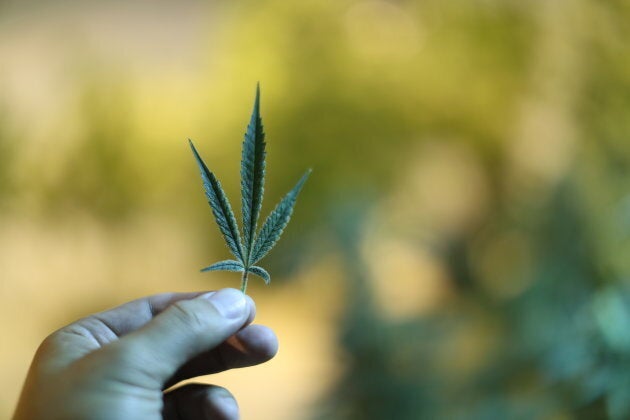 At the time, Harvey had been driving from Vancouver to Seattle, WA. — a state that legalized the recreational use of marijuana in 2012.
Despite weed being legal in Colorado and Oregon as well, its use is still considered a federal offence in the U.S.
Harvey's story is a cautionary tale for U.S.-bound travellers (do you answer honestly, or give an "alternative fact") as the federal laws are expected to change in Canada next year.
Mulcair suggests double standard
Last week, the NDP pressed the Liberals to strike a deal with the U.S. government to make sure Canadians won't run the risk of entry bans if they admit to border agents that they've smoked marijuana.
"Frankly, I'm baffled that the Liberals have not had the foresight to anticipate this problem and begin dealing with this now," MP Don Davies said at a press conference.
The Liberals introduced their marijuana legislation in the House back in April, proposing legalization of the drug for those 18 and over. It's expected to come into effect in July 2018.
We would not tolerate the Americans writing the rules for us, just as we would not report to write the rules for them.Ralph Goodale
But, similar to the diplomatic language Trudeau has adopted in addressing the two country's soon-to-be differing stances on marijuana, the official reminded Canadians that weed is still considered a dangerous and illegal drug south of the border.
"It is important that Canadians are aware of possible actions they may face upon attempted entrance into the United States if they possess or have residue of marijuana," the official told The Canadian Press.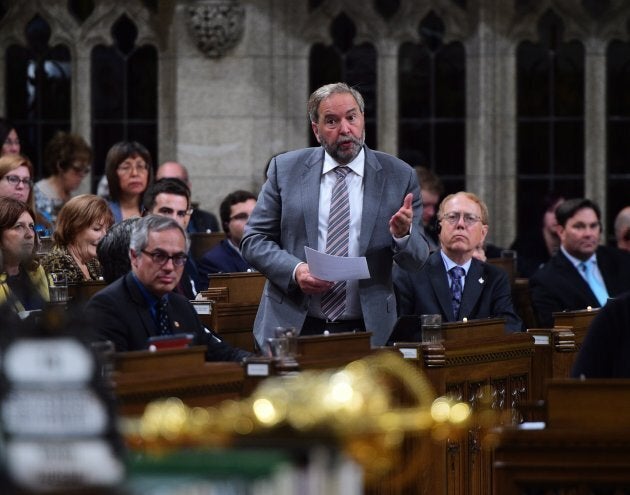 The topic was raised later by NDP Leader Thomas Mulcair in question period on Tuesday, prompting the public safety minister to reassure him that Canadian officials have raised the issue with their American counterparts.
"Canadians should have every expectation that when they approach the United States border they will be treated in a consistent, fair, and respectful fashion," Ralph Goodale said, stressing that the U.S. and Canada are sovereign countries free to write their own laws.
"We would not tolerate the Americans writing the rules for us, just as we would not report to write the rules for them," he said.
We just want to make sure the same rule applies to all Canadians.Thomas Mulcair
Mulcair made a reference to the prime minister, responding to comments from earlier in the day about the advantages his diplomatic passport brings at the U.S. border. Trudeau previously admitted to HuffPost Canada that he smoked weed as a member of Parliament.
"We just want to make sure the same rule applies to all Canadians," Mulcair said.
Speaking to reporters after question period, Goodale advised those with a history of smoking marijuana to be "forthright and honest" with both U.S. and Canadian border agents.
"It is obviously critical to respect the border rules of the other country," he said.