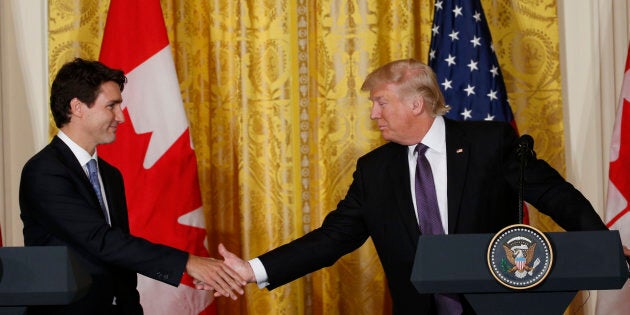 A vast majority of Canadians say the government should ditch NAFTA if current renegotiations end in a "bad deal for Canadians and the environment."
In an EKOS poll carried out for the Council of Canadians, 77 per cent of respondents said Canada would be better off with no deal than a bad deal; 48 per cent strongly agreed.
The poll did not define what a "bad deal" would look like, but it does suggest Canadians on all sides of the political spectrum are willing to play hardball on trade with the United States.
Why NAFTA matters to Canadians:
Among self-identified Conservatives, 69 per cent agreed Canada should bail on a "bad deal," while 77 per cent of Liberals, 80 per cent of Bloc Quebecois voters and 81 per cent of NDP voters agreed. Green voters were the likeliest to agree with rejecting the pact, at 90 per cent.
"Many NAFTA proponents are saying that the deal is too big to fail, that there is no alternative, but people do not agree with that argument," said Maude Barlow, honorary chairperson of the Council of Canadians.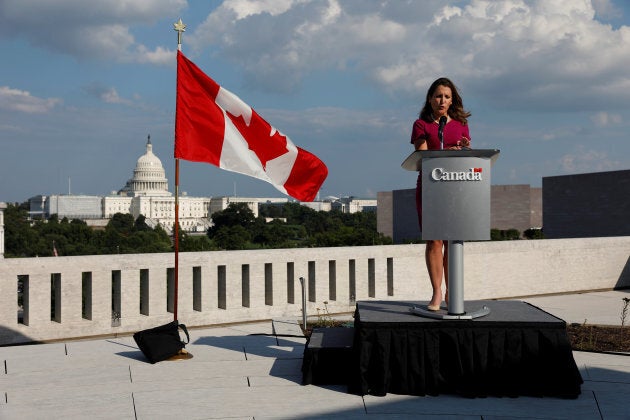 The poll asked Canadians about three controversial aspects of the current NAFTA deal, and found broad support for scrapping those measures.
Eighty per cent of respondents agreed water should not be treated as a commodity under NAFTA, as it is now; 70 per cent said measures requiring Canada to maintain energy export quotas to the U.S. should be removed; and 63 per cent agreed that Chapter 11 should be removed from NAFTA. That provision allows companies to sue governments under NAFTA tribunals.
Chapter 11 has proven to be a headache for Canadians governments. A 2015 study from the Canadian Centre for Policy Alternatives identified Canada as the most-sued country under Chapter 11, attracting 70 per cent of all claims.
"Many NAFTA proponents are saying that the deal is too big to fail, that there is no alternative, but people do not agree with that argument."Maude Barlow, Council of Canadians
There has been little word on the fate of the energy and water provisions in the ongoing talks on NAFTA between Canada, Mexico and the U.S. But a report in the Globe and Mail last week indicated that Canada's federal government is looking to overhaul Chapter 11 provisions.
The federal Liberals are looking replace it with a new mechanism that more closely resembles the investor-state dispute resolution mechanism in the Canada-EU free trade deal, or CETA.
Under the deal with the EU, tribunals will consist of a set roster of judges, rather than individually appointed arbitrators. (The Canada-EU trade deal comes into force on Thursday, but that provision will not be enforced until all 28 EU member states sign the agreement.)
U.S. NAFTA negotiators are apparently open to the proposal to overhaul Chapter 11. Talks are underway and they're "not stalemated like other subject areas," the Globe reported.
The next round of NAFTA renegotiations are scheduled to take place Sept. 23-27 in Ottawa.
The EKOS poll surveyed 1,043 adult Canadians between Sept. 7 and Sept. 13, has a margin of error of +/-3.03 per cent, 19 times out of 20.