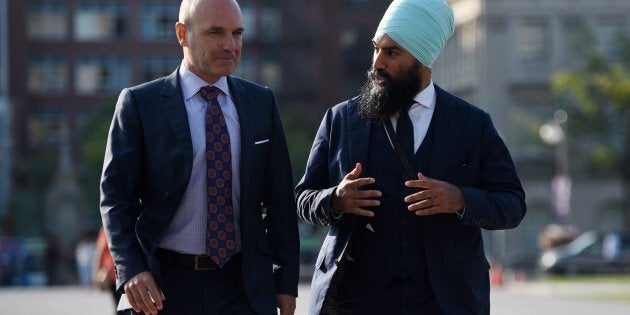 A high-profile NDP MP has suggested lessons from his party's gutting loss to Justin Trudeau's Liberals in 2015 helped convince him that Jagmeet Singh is the best person to lead New Democrats.
B.C. MP Nathan Cullen, who finished third in the 2012 NDP leadership race but surprised observers by opting not to run this time, endorsed Singh at a press conference in Ottawa Wednesday.
Cullen addressed what is becoming a key criticism of Singh, an Ontario MPP, as party members cast their ballots: the possibility that he will not seek a federal seat until the 2019 election.
We were incredibly strong in the House of Commons during the last Parliament, yet not so much out of the bubble.Nathan Cullen
Cullen noted that former leader Jack Layton did not hold a seat when he took over the helm of the party in 2003. But he also suggested there was a lesson from the experiences of Thomas Mulcair, who was widely seen as an effective performer in Parliament and has said it would be "a heck of a lot better" if his successor holds a federal seat.
"We were incredibly strong in the House of Commons during the last Parliament, yet not so much out of the bubble," Cullen said. "Our presence on the ground was not as strong as it should have been. And when the election finally came around, that became evident."
Cullen noted that New Democrats were sharply critical of Trudeau, then leader of the third place party, for not "being as present or as strong in the House" as they thought he should have been.
"Voters in the end determined that they had a relationship and understood his policies better than they did ours. So, he's prime minister," Cullen said.
'He's much better looking'
Singh has not closed the door completely on running before 2019 if he wins the leadership but has said his priority would be travelling across the country to meet with people and discuss the issues.
Cullen suggested that having Singh on the road discussing what New Democrats are fighting for in Parliament would be a good strategy. He lauded the MPP's ability to connect with a "broad and diverse group of Canadians."
Cullen was also asked if he thought Singh might have the same kind of appeal to Canadians as Trudeau.
"He's much better looking. He dresses better as well," Cullen said, sparking chuckles from Singh. "And he also has social democratic values that he believes in. So, isn't that nice?"
The MP noted Singh's pull on social media and the enthusiasm at his events, but said he actually believes in his policies.
"As opposed to just saying something to get elected over certain issues (as) we've seen with Mr. Trudeau, whether it's on First Nations, whether it's on electoral reform, whether it's on commitments to climate change," Cullen said.
"Those were things that progressive voters rallied around in the last election, along with Mr. Trudeau's so-called star appeal. But here's the thing for Liberals: people actually wanted those policies to happen. They didn't just want celebrity."
Cullen was a leading NDP voice on electoral reform, which has become perhaps the biggest broken promise of the Trudeau government. Cullen publicly blasted Trudeau as a "liar" after Liberals abandoned their pledge to reform Canada's voting system.
He told reporters he's "literally lost sleep" thinking about the next steps for the NDP and heaped praise on the three other members of the federal caucus running against Singh: Ontario's Charlie Angus, Quebec's Guy Caron, and Manitoba's Niki Ashton.
Angus and Ashton have both pressed Singh to make his future plans clear, asking at debates if he'd run federally in 2019 if he does not win the party leadership. Singh has dodged the question by saying he will win the leadership race.
Angus: Parliament a 'training ground'
Angus, in particular, has turned up the heat on Singh for not holding a federal seat and not being in a rush to try to get one. The veteran MP has said New Democrats need their leader in the House this fall, pushing the Liberals and the prime minister.
"Parliament is where you try out and you see how you stand up to a sitting prime minister and I'm looking forward to that," Angus said this week.
Angus, like Cullen, was first elected in 2004.
NDP members began voting for a new leader Monday. HuffPost Canada is hosting a Toronto debate featuring all four NDP leadership candidates on Sept. 27.
First ballot results will be announced Oct. 1.
With a file from The Canadian Press