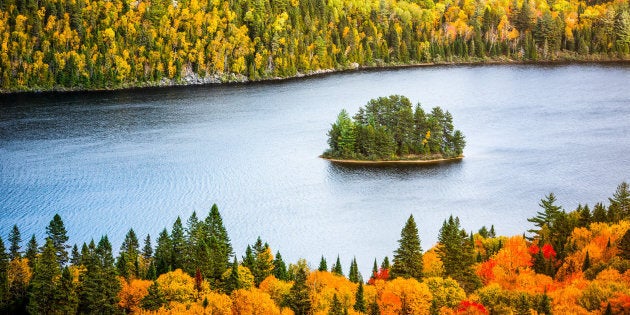 Sure, Montreal might just be coming out of a massive September heatwave, but that hasn't stopped the leaves from changing colour — or the droves of people planning to visit said leaves from hitting the road to do so.
It's well-known that Quebec has some of the most gorgeous fall foliage in Canada, and now (end of September/beginning of October) is the exact right time to check it out.
To figure out where to go, we consulted the very helpful Fall Foliage map from Tourisme Quebec to get the most of those unendingly delightful orange, yellow and yes, green leaves. But it's being constantly updated, so if this weekend isn't the best time, check it out next week (and the week after) for ideal spots to leaf peep.
Sutton, Eastern Townships
Distance from Montreal: Approximately 1.5 hours
Path to wander: Take advantage of the area's Fall Festival and get on a guided walk of Parc d'environnement naturel de Sutton's 52 kilometres of hiking trails.
Other things to do there: Check out Au Diable Vert, station de montagne, the ridiculously charming wilderness resort that has places like treehouses (actual treehouses) to stay in.
Parc national du Mont-Mégantic
Distance from Montreal: Approximately 2 hours, 30 minutes
Path to wander: Any of the trails that get you to one of the three summits in order to fully take in the view. They've also recently opened the Franceville portion in the north-west part of the park, which overlooks the valley of the Ruisseau de la Montagne.
Other things to do there: The Observatoire Astronomique du Mont-Mégantic is open to visitors who want a guided tour of the facilities during the day, and a more extensive impression of the night sky in the evenings. For 2017, those nighttime events start at 7 p.m. on Saturdays.
Victoriaville
Distance from Montreal: Approximately 2 hours
Other things to do there: This weekend to next, the Balade Gourmande is on, a tasting tour of a huge variety of food producers of every sort in this agricultural region. Give us all the cheese.
Trois-Rivières
Distance from Montreal: Approximately 1 hour, 40 minutes
Other things to do there: A museum dedicated to the paper industry might sound a little boring at first, but Boréalis is anything but, thanks to its innovative exhibits and super cool tunnels.
Mont Tremblant
Distance from Montreal: Approximately 1.5 hours