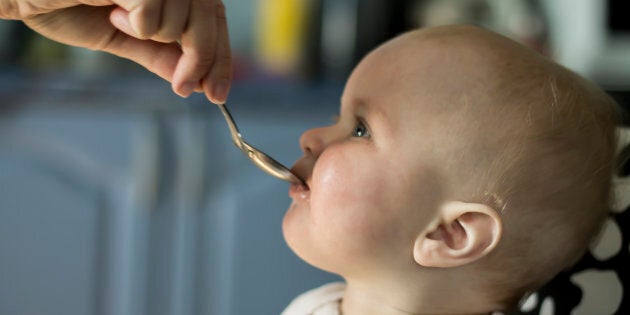 That banana flavour isn't fooling anyone.
For most parents, trying to get their baby to swallow medicine is akin to torture. Whether you're trying to slowly administer the offensive liquid while your baby spits it back in your face, or you've resorted to pinning your child down and prying their jaw open (we're not judging), the result is usually the same: tears, and medicine everywhere except their mouth.
But a British mom found the solution we all need.
In a viral Facebook post, mom Helena Lee shared three photos that just make so much sense. They show her son, Alfie, sucking his medicine from a syringe nestled in the nipple of his baby bottle as his mom slowly pushes the liquid through.
Not one bit got wasted...and no tears.Helena Lee
"So for the last 24 hours I've struggled to get Alfie to take calpol, he has ended up covered in half of it where he spits it at me," Lee wrote in the post.
"Then I remembered seeing this trick...not one bit got wasted...and no tears."
It's so simple, we could cry. The hack, which Lee posted Saturday, has already been shared almost 118,000 times and has attracted more than 50,000 comments.
"I'd tried giving him little bits at a time, squirting it all in at once, tried in the middle of feeds, I even tried a spoon but he just gagged or spat it out at me — he then wasn't getting all the dose so it wasn't bringing his temperature down," Lee said.
Keep the hacks coming, moms of the internet. We're all grateful.