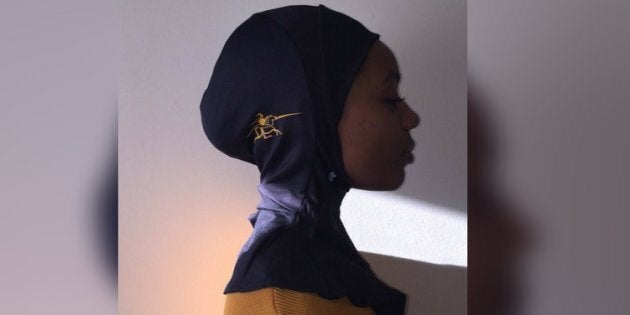 Winnipeg high school student Nusaybah Mohamed's basketball uniform will look a little different this year as she and other Muslim athletes at Dakota Collegiate now have the choice to wear a sporty looking custom-made hijab.
The black and gold garment with a Dakota Lancers logo is the result of an initiative started last year by her older sister, Amina.
The now 17-year-old who is studying sciences at the University of Manitoba was sometimes questioned by referees before high school basketball games if the safety pin used to hold her hijab together was safe for play.
We're the second school in Canada to have done this, which is super exciting.Nusaybah Mohamed
Amina says she decided to look for one that's easier to wear and which would encourage Muslim women who think they can't get involved in sports because of their attire.
Dakota Collegiate found a website where it could place orders for custom hijabs.
Nusaybah, who is in Grade 11, wore her new hijab for the first time on the basketball court Monday and says the head-covering is lighter, easier to use and much faster to slip on.
"We're the second school in Canada to have done this, which is super exciting,'' said Nusaybah.
"I'm excited for the girls that are here, including my little sister,'' said Amina. "And I know there are other Muslim women wanting to play sports or who are currently in sports.''
Dakota basketball coach Eric Sung said his varsity players have never had trouble wearing a hijab in a game.
He noted, however, that until this past summer, the International Basketball Federation had banned the wearing of hijabs, turbans, yarmulkes and other religious headgear during games.
"You're going to see more athletes who wear a hijab playing and trying to be an elite athlete,'' he said.
Sung estimated about 50 girls who attend Dakota Collegiate wear a hijab. Physical education is part of the high school's curriculum.