Canada's soundtrack today is brought to you by Gord Downie and The Tragically Hip.
The Hip have an enormous catalogue that spans 14 albums, full of songs that have touched countless people at different moments in their lives.
In honour of Gord Downie, who died today at age 53, HuffPost Canada editors decided to compile a list of essential Tragically Hip songs, to pay tribute to one of Canada's greatest rock bands and its incomparable frontman.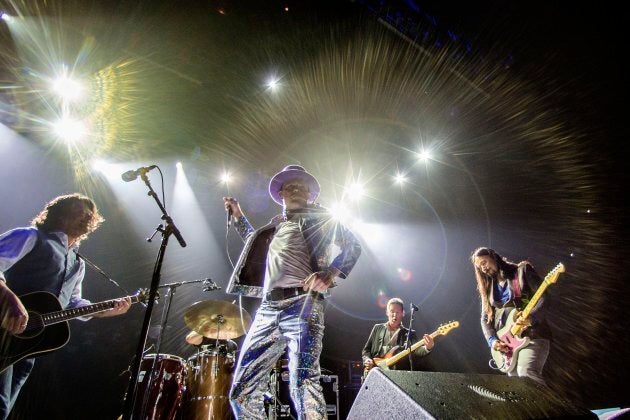 "He'd tell me It's A Good Life If You Don't Weaken. He'd tell me about this cop who's in love with a girl from the country. He'd tell me about Wheat Kings and pretty things," wrote senior politics editor Ryan Maloney in a blog upon learning of Downie's terminal cancer diagnosis.
Those lyrics, and many more, affected Canadians near and far.
This list isn't just for the fans who want to reminisce — it's also for those who want to get to know The Hip and Downie's music a little more.
These are the songs that led us to ourselves. No dress rehearsal. This is our life.
1. "Fiddler's Green"
"One of my favourite Hip songs has to be 'Fiddler's Green,' a deceptively soft ballad about Downie's nephew who died at a young age from heart problems. Containing literary references ('Falstaff sings a sorrowful refrain') that are one of the trademarks of the band, the song is rarely played live because of its emotional impact, but is heart-wrenchingly beautiful, staying with you for hours after you listen to it." — Rebecca Zamon
2. "38 Years Old"
"Gord Downie is famed for injecting poetry into pub rock but '38 Years Old,' one of the Hip's finest hits, avoids his later enigmatic lyricism in favour of the straightforward storytelling of Downie's national forebears Stompin' Tom and Gordon Lightfoot.
This fictional recounting of a real jailbreak from Millhaven Maximum Security near the band's Kingston hometown is a masterclass in narrative minimalism. The prison escape pegs a microstory about a brother murdering his sister's rapist that proves the importance of minutia as the emotional impact comes not from the alluded to violence but quotidian details like the 'same pattern on the table, same clock on the wall / Been one seat empty eighteen years in all.'" — Joshua Ostroff
3. "Fireworks"
"I lived in Kingston, Ont. for eight years, so The Hip were an essential part of my twenties (both in terms of seeing them perform live, and seeing them on the street). When I was at Queen's University, an acquaintance of mine sang "Fireworks" during a student-run comedy show and brought the house down. That song, for me, will always remind me of the joy, friendship, and freedom I felt in that moment. That same friend died in a car accident a few years later, so the song became even more meaningful to me then."— Natalie Stechyson
4. "Bobcaygeon"
"The song that holds the most significance for me, personally, is 'Bobcaygeon.' It was released in 1998, right around the time I started to discover that I could have musical tastes outside what my parents listened to. I remember putting on MuchMusic every day after school, specifically hoping they would play that song. I was mesmerized by the lyrics and video and I think it was pretty crucial to helping grow my understanding of Canadian identity." — Michelle Butterfield
5. "New Orleans Is Sinking"
"This is not my favourite Hip song — there are many — but I think it's essential listening if you're new to the band. I didn't really start paying attention until I went to Guelph, Ont. for university in the early '90s. I hadn't been outside my Toronto bubble much, but when I landed in Guelph, every bar worth its salt would blare the gritty 'New Orleans Is Sinking' at some point during the night. To me, the song is all about the freedom of being in the moment and not giving a fuck about the consequences — picture a bar full of hazy, boozy students flailing around and screaming 'SWIM!', and you've got yourself a definitive Canadian university moment that endures for many to this day." — Lisa Yeung
6. "Grace, Too"
"As someone who didn't really grow up listening to The Hip, I had to discover a lot of their stuff on my own. I think this is a song that encapsulates a lot of their sound. What you'll find when listening to The Tragically Hip is that Gord Downie can often be soft-spoken and hard hitting at the same time. Their songs, sometimes, can resemble a wave that flows up and down. 'Grace, Too' is a perfect example of this." — Andre Varty
7. "Wheat Kings"
"'Wheat Kings' is profound because it showcases Downie's poetry, but also because of its subject. He wrote it about David Milgaard, released from prison after 17 years, wrongly convicted of a woman's rape and murder. One of the band's most iconic songs, I love these two lines the most: 'And all you hear are the rusty breezes, pushing around the weathervane Jesus' and 'Where the walls are lined all yellow, grey and sinister, hung with pictures of our parents' prime ministers.'" — Emma Prestwich
8. "Lake Fever"
"Growing up in Port Colborne, Ont., so many of my most important summer nights were spent on the shores of Lake Erie, where we entertained ourselves with bonfires, banter, and whatever beer we could get our hands on. And, of course, the stories of The Tragically Hip.
It's impossible for me to hear 'Lake Fever,' an underrated song from the underrated Music @ Work album, and not think back to those days with my friends when so much seemed possible. The song always felt like a playful jaunt about a budding romance or at least courtship — something that also happened a time or two on those beaches.
'Want to be your wheezing screen door. Want to be your stars of Algonquin.' Those lines struck me back then, as they do today. I didn't quite know what they meant, but I knew I wanted to find a girl who'd let me be those things for her one day." — Ryan Maloney
9. "Blow at High Dough"
"My pick would be 'Blow At High Dough' because it was my gateway to a great deal of Canadian pop culture. I basically came across the song while watching the CBC on Friday nights when I was a kid. The show 'Made In Canada' used the song as part of their opening credit and then I started listening to more of their stuff on 102.1 The Edge as I fell in love with them." — Brian Vinh Tien Trinh
10. "Now for Plan A"
"The first time I started listening to the Tragically Hip was in 2012, when they released their 12th studio album Now for Plan A. I was late to discover them, but that was only because of my age. Regardless, this song became a perfect introduction to the beautiful music they had been producing for years. This song specifically had so much tenderness to it that it immediately put me in a state of enchantment. After listening to all of the songs above, you'll realize that Gord Downie's lyrics always hold some type of weight to them. And they only get heavier as he grows older. When Now for Plan A came out, Downie's wife was being treated for breast cancer. In this song, Downie repeats the word's 'nothing short of everything's enough,' reminding us that even if we have everything, it'll never be enough." — Andre Varty