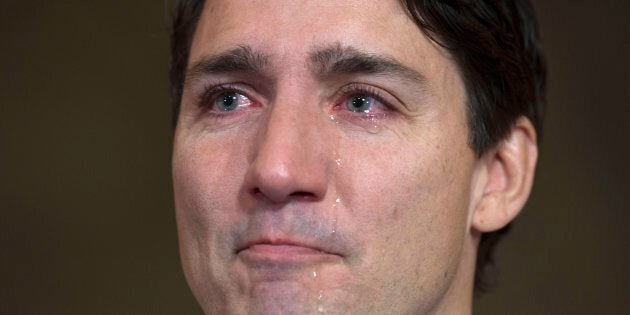 Prime Minister Justin Trudeau paid tearful tribute to Gord Downie Wednesday after learning the beloved frontman of The Tragically Hip died of cancer.
"We are less as a country without Gord Downie in it," Trudeau told reporters in Ottawa.
The PM said Downie was his friend, then added, "Gord was everyone's friend."
He lauded the singer for loving Canada in a way that wasn't "nebulous."
'He loved every hidden corner'
"He loved every hidden corner, every story, every aspect of this country that he celebrated with his whole life," Trudeau said.
And Downie wanted to make Canada better, he added, by dedicating his final days to pushing for reconciliation Canada's Indigenous peoples and by telling the haunting story of Chanie Wenjack, a boy who died trying to escape his residential school.
Downie pushed PM on reconciliation
"We're in good hands, folks, real good hands," Downie told the live audience, as cameras cut to Trudeau who was in attendance. "He cares about the people way up North, that we were trained our entire lives to ignore, trained our entire lives to hear not a word of what's going on up there.
"And what's going on up there ain't good. It's maybe worse than it's ever been ... (but) we're going to get it fixed and we got the guy to do it, to start, to help.''
Before a nationally televised audience, Downie also gave Trudeau a call to action.
"Prime Minister Trudeau's got me, his work with First Nations. He's got everybody. He's going to take us where we need to go," he said.
"It's going to take us 100 years to figure out what the hell went on up there, but it isn't cool and everybody knows that. It's really, really bad, but we're going to figure it out, you're going to figure it out."
We all knew it was coming but we hoped it wasn't.Prime Minister Justin Trudeau
Trudeau said Wednesday that he has drawn inspiration from Downie's words.
"We all knew it was coming but we hoped it wasn't. And I thought I was going to make it through this but I'm not," Trudeau said, tears streaming. "It hurts."
Trudeau also released a statement praising Downie as a poet whose words "came to define a country."
The prime minister's full statement:
For almost five decades, Gord Downie uncovered and told the stories of Canada. He was the frontman of one of Canada's most iconic bands, a rock star, artist, and poet whose evocative lyrics came to define a country.

The Tragically Hip's music invited us to explore places we had never been – from Mistaken Point to Churchill – and helped us understand each other, while capturing the complexity and vastness of the place we call home.

Gord's command of language was profound. He painted landscapes with his words, elevating Canadian geography, historical figures, and myths. When he spoke, he gave us goosebumps and made us proud to be Canadian. Our identity and culture are richer because of his music, which was always raw and honest – like Gord himself.

In the wake of his diagnosis, Gord only fought harder for what he believed in: social justice, environmentalism, and reconciliation with Indigenous Peoples. Before passing, he shined his light on the story of 12-year-old Chanie Wenjack who died from hunger and exposure after trying to find his way home from a residential school. For his work raising awareness of Indigenous issues, he was inducted as a member of the Order of Canada in 2017.

Gord did not rest from working for the issues he cared about, and his commitment and passion will continue to motivate Canadians for years to come.

On behalf of all Canadians, Sophie and I offer our deepest condolences to Gord's family, friends, bandmates and crew members, and his many, many fans. He will be sorely missed.
With files from Andree Lau