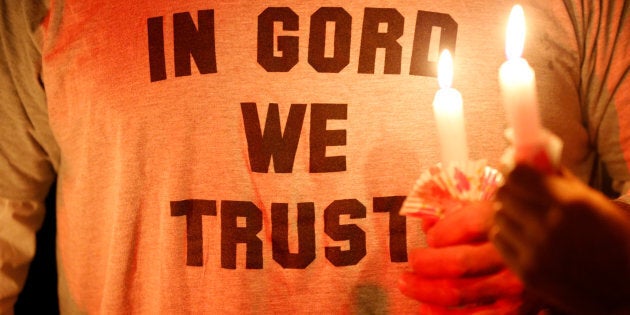 Gord Downie. He was Canada's son and the voice of a generation's soundtrack.
The Tragically Hip frontman died Tuesday Night at the age of 53 from an incurable form of brain cancer. And our country bowed its collective head in sorrow.
So beloved was Downie that his brother Mike recently said his family was hoping to organize a public memorial for the musician.
He said a public memorial would have to be "something that Gord would like and appreciate, so we'll just have to figure that out."
Mike described the public's reaction to his brother's death as "unbelievable." And it has been.
Shore to shore, people are celebrating Downie's genius in some very Canadian ways.
Take our prime minister, for example. Justin Trudeau didn't keep a stiff upper lip when talking about the loss of his friend. He let the moment just wash over him and he cried, just like the rest of us.
In Kingston, Ont. The Hip's hometown, the hosts of 98.9 The Drive, a local radio station, suggested a tribute that combines two Canadian icons: Tim Horton and Gord, in a Timmies' commemorative cup.
They point out that the lead singer had previously given the company a shout-out in the Hip song, "Vancouver Divorce."
Before their game against the Detroit Red Wings on Wednesday, the Toronto Maple Leafs honoured Downie by lowering Bill Barilko's banner from the rafters.
For those aren't familiar with Barilko, The Hip's 1992 song "Fifty-Mission Cap" is about the night the hockey player helped the Leafs win the Stanley Cup in 1951 by scoring a goal in overtime. He disappeared months later, and the mystery of his death wouldn't be solved for 11 years 1962, the next year the Leafs won the Cup again.
Kingston also held a late-night vigil for Downie, like many other towns across the country.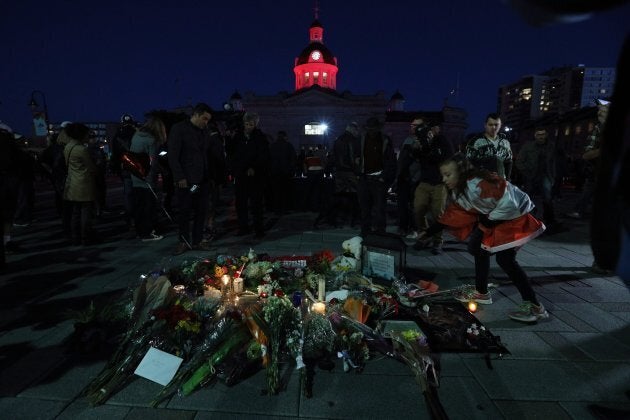 Earlier in the day, mayor Bryan Paterson added his own flowers to the memorial and kneeled on the ground to sign the massive banner, his thoughts alongside hundreds of others' condolences.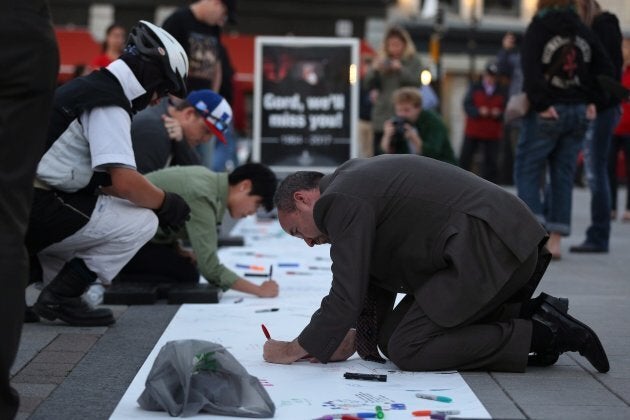 In Bobcaygeon, Ont., a town of 3,500 that was mythologized in one of the Tragically Hip's classics, candlelight illuminated thoughts of Gord.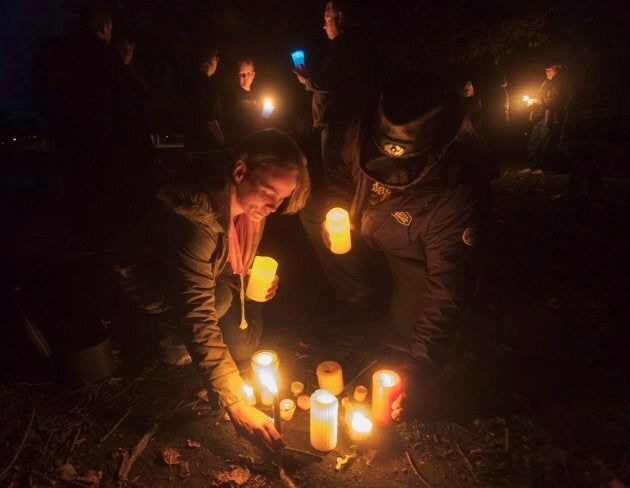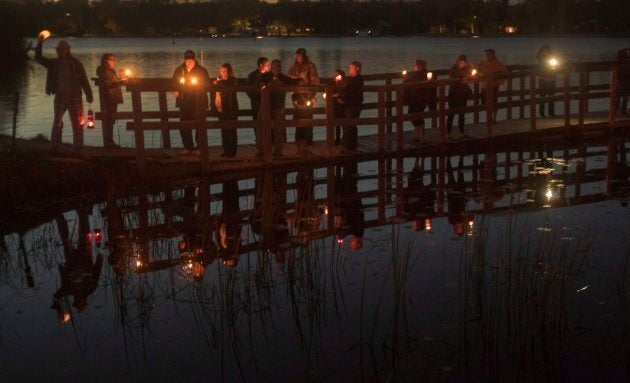 We even made sure our national monuments paid homage. The Peace Tower on Parliament Hill in Ottawa didn't just ring the same bell tolls. No, no. Not for Gord.
And the Canadian flag at the House of Parliament was lowered to half-mast.
Downie fans, spearheaded by Vancouver radio station JACK 96.9, started a Change.org petition to officially create "Gord Downie Day" as a national day of recognition for the late singer.
And like the awkward uncle at the wake, not every condolence comes out right. Hudson's Bay posted this tweet for only about half an hour before deleting it. They tried to combine Gord with one of the Great White North's most iconic fashion ensembles: The Canadian tuxedo.
Before he died, Gord worked with his brother Mike on the "Secret Path'' project, which included an album, graphic novel and even an animated film about Chanie Wenjack, a 12-year-old Ojibway boy who died in 1966 after escaping a residential school.
And so, "Secret Path" illustrator Jeff Lemire is selling an illustrated tribute to Gord that goes towards the Gord Downie and Chanie Wenjack Fund for reconciliation.
And of course, in the 6ix, the Toronto sign was dimmed.
Mike Downie said his family was comforted by the flood of public support.
"It helps with the sadness because it's so uplifting,'' Mike Downie said through tears during an interview in Toronto. "But it actually makes you a little sadder too because you realize there's a lot of people who are really hurting."
"It also makes you feel like you're part of something. I think that's true for a lot of Canadians. I'm in good company."
With files from The Canadian Press.