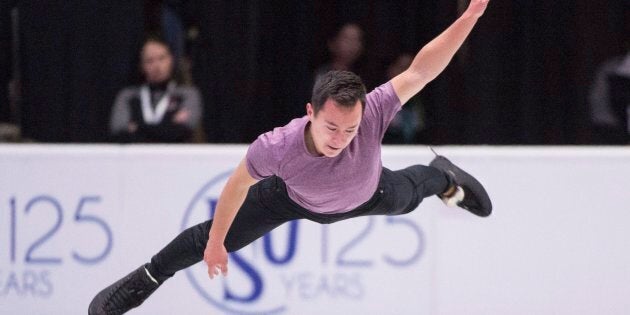 REGINA — Patrick Chan finally arrived at Skate Canada International. His costumes didn't.
The three-time world figure skating champion missed Thursday morning's practice after his flight out of Detroit on Wednesday was delayed. He missed his connection in Toronto, and spent the night there before flying to Regina on Thursday.
He practised early Thursday evening, in track pants and a short-sleeved workout top, but his luggage had yet to arrive.
"I luckily packed my skates and practice clothes (in his carry-on)," Chan said. "I don't have my costumes though, I might have to borrow a shirt from a skater, luckily I have friends here."
The 26-year-old from Toronto said TSA allows skates in carry-on luggage in North America.
Chan, who's aiming for his seventh Skate Canada International title, said the hectic two days of travel are "a good test."
"It's frustrating," he said. "Like anybody, I don't want to put myself in a situation where I'm running around like a dog at the airport trying to get on a plane. It's a bit ridiculous. But that's travel, you can't really control that, and I kind of look at it as an opportunity.
"It actually relaxes me a little, honestly now that I'm here, just roll with the punches. If I don't have a costume, I don't have a costume, I'll just show up and that's all I can do, right? It's a good adventure."
'It's all good, all good'
Chan is keeping fingers cross his luggage arrives before he skates his short program to "Dust in the Wind" by Kansas early Friday evening. His long program to Jeff Buckley's "Hallelujah" is Saturday.
"It's not the Olympics or world championships, then I would be kicking myself," he said. "It's all good, all good."
Chan, who won silver at the 2014 Sochi Games, will compete in his third and final Olympics in Pyeonchang.