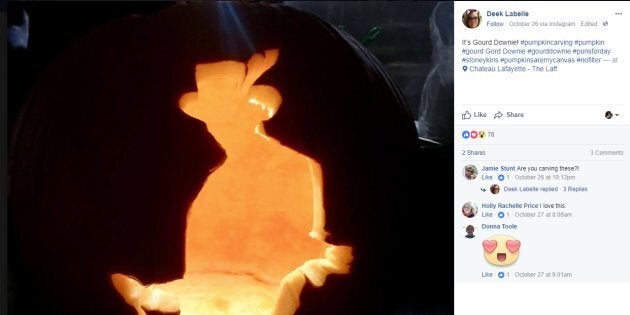 Talk about "casting a golden light."
This Halloween season, "Gourd Downie" pumpkins are glowing across the nation in honour of Tragically Hip frontman Gord Downie. Downie died Oct. 17 of glioblastoma, an aggressive brain cancer. He was 53.
As of Oct. 30, photos of "Gourd Downie" pumpkins had been posted on Reddit, Imgur, Facebook, Instagram, and Twitter.
Reactions to the pumpkins were typically Canadian, ranging from simple heart-eyed emojis and "I love this" comments, to devolving into gourd-awful puns.
"No dress rehersal, this is our knife," Reddit user TurrisTrap wrote in response to a "Gourd Downie" pumpkin posted by user Karma_Canadian.
"I looked up to the Gourd above and I said 'Hey man, thanks,'" another Reddit user commented.