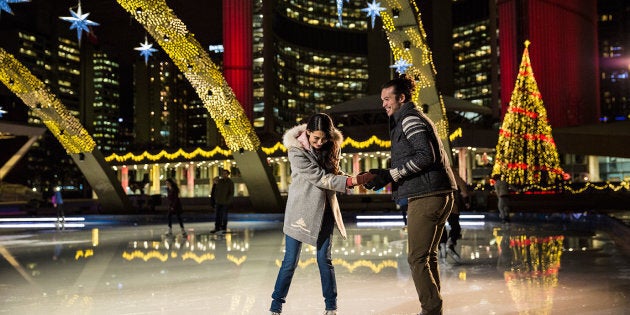 Toronto has become the spot to shoot some of Hollywood's biggest action films. From "The Hulk" to "Suicide Squad," the streets of The 6ix have played host to many blockbusters. But even after the lights and cameras turn off, Toronto is still the place to be for Hollywood-like romance. Our bustling streets and stunning architectural gems make for the perfect backdrop for a romantic winter date night. In partnership with Tourism Toronto and Ontario Tourism, here are a handful of activities in Toronto that will warm the heart on the nippiest of evenings.
In the final scene of "Serendipity," Jonathan and Sara share a swoon-worthy kiss in the middle of a skating rink. With light flurries surrounding them, it becomes a magical moment -- one that seemingly only Hollywood can secure. You can recreate that passion in one of Toronto's iconic skating rinks this winter. Both Nathan Phillips Square and the Harbourfront Centre in the downtown core provide ample hours for evening skates. And both have plenty of benches to rest on while taking in selfie-worthy sights, whether it's the iconic TORONTO sign at Nathan Philips Square or the lovely lakefront vista at the Harbourfront Centre.
It's become tradition for The Hudson's Bay flagship location on Queen Street to transform its display into a mesmerizing work of holiday-inspired art. The iconic retailer puts a captivating display together featuring various animatronics in idyllic settings. The adjacent storefront display for Saks Fifth Avenue is also eye-catching as are the windows on Bloor Street in Yorkville. Check out Holt Renfrew and its seasonal aural backdrop along with the massive head-tilting Christmas tree at William Ashley China. You'll feel as if you're walking through the snow-dusted set of "The Holiday," on a date with "Mr. Napkin Head."
The "Lady And The Tramp" spaghetti scene might be the most romantic in animated film history and Toronto's Casa Loma might just be the perfect spot to recreate it. When not in use for productions, the building and its grounds host a variety of events, including a weekly winter event in December dubbed Magical Winter Nights. The evening includes music, beverages and treats as well as a stroll through the castle's intricate lighting presentation. On another night, visit BlueBlood Steakhouse, Casa Loma's latest culinary offering. Dig into juicy cuts of aged beef or iceberg wedge salad in an impressive space complete with modern fixtures and plush seating.
If a bit of dinner and dancing is your preference, look no further than to Lula Lounge. This establishment features the finest in international music alongside a menu that melds various cuisines. As if that's not enough, you can also participate in Friday and Saturday night Latin dance lessons. It's not quite Dirty Dancing but you'll definitely have the time of your life. It's time to start practicing that jump!
Distillery District/Toronto Christmas Market
The heritage buildings and cobblestone streets of Toronto's Historic Distillery District will remind you of the time-bending romance film "Kate & Leopold," making it the perfect backdrop to any date. As snow begins to fall, this area comes alive with the Toronto Christmas Market which this year opens on Nov. 16 and runs through Dec. 23. A potpourri of vendors, craftsmen, artisans, food vendors and light displays make this date one of the most romantic ones yet. And that's not even including the over 350 performances and concerts slated during the five-week stretch ranging from bluegrass to opera to seasonal carols.
While you're here, be sure to visit the Toronto Light Festival; a cerebral art installation that lights up the winter sky with mind-blowing pieces. The event spans over 45 days, transforming 44 buildings across the city into pieces of illuminated art.
With a favourable exchange rate, you'll get more Toronto date nights for your money this winter. Book your romantic getaway in Toronto now. Learn more here.