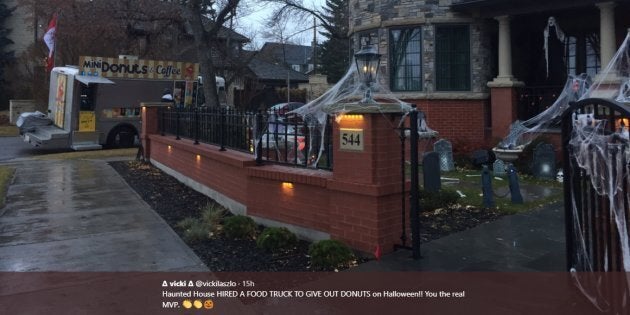 And here you thought you were a hero for handing out full-sized candy bars.
A house in Calgary just put us all to shame by renting an actual food truck on Halloween night.
In photos posted to Twitter Tuesday, Mini-Donuts Canada — a Calgary food truck available for birthdays, trade shows and other special events — can be seen handing out doughnuts to costumed kids outside an impressively decorated house.
In all, they handed out mini doughnuts to 585 trick-or-treaters in the Crescent Heights neighbourhood, Darnell Grant, a managing partner, told HuffPost Canada.
This was the first year Mini-Donuts Canada had been hired to hand out treats to trick-or-treaters on Halloween, Grant said. The homeowners paid for the mini doughnuts, he added.
"It was the most enjoyable event ever. Not only did the kids have fun, so did the adults," Grant said.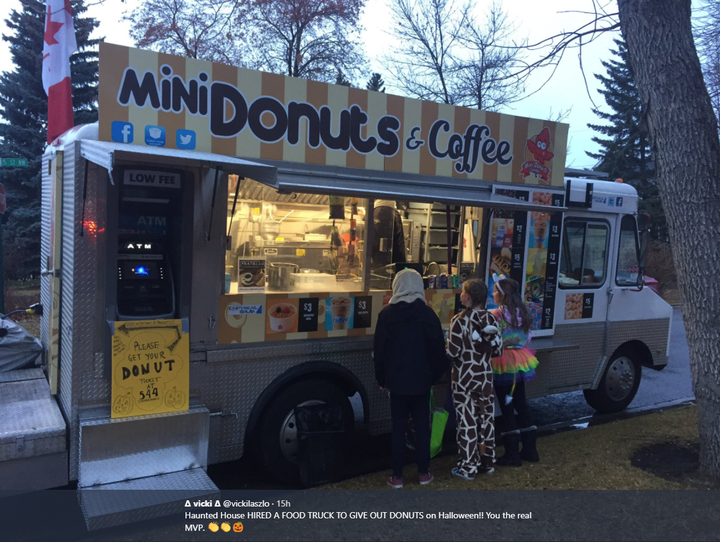 Calgary already takes Halloween pretty seriously.
Each year, Mayor Naheed Nenshi leads the city in a social media project to find out which community has the most Halloween spirit using the hashtag #yyckidcount. The Calgary Herald tallies the results.
And as for the mini doughnuts?
Consider yourself challenged for next year, Canada.