Many Canadians wholeheartedly embrace the polite stereotype, and now one Saskatchewan resident has proven just how true the label is.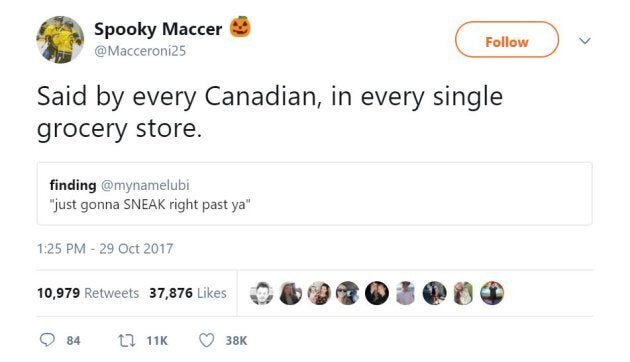 The tweet, which reads "Said by every Canadian, in every single grocery store," was in response to another user's tweet, which reads, "just gonna SNEAK right past ya."
One even joked, "Your level of Canadian depends on how long you extend the 'Sneak' for."
"During the second war, we managed to get through the war without any really serious political problems at home," Bothwell previously explained to HuffPost Canada. "Of course, to that you can add that we were a prosperous country. Prosperity in a lot of ways is it's own attraction. If you look at Canada after 1940, and you see a fairly contented, well-governed middle class country... that's the way it would look from outside."
Despite this theory, Marcel Danesi, a semiotics professor at U of T, says there's no way to prove that Canadians really are as nice as the world thinks.
"You cannot anymore say this culture is subjectively more polite than the other," he told the Toronto Star in June. "They are different in how they interact."
#sorrynotsorry, but we'll never change.