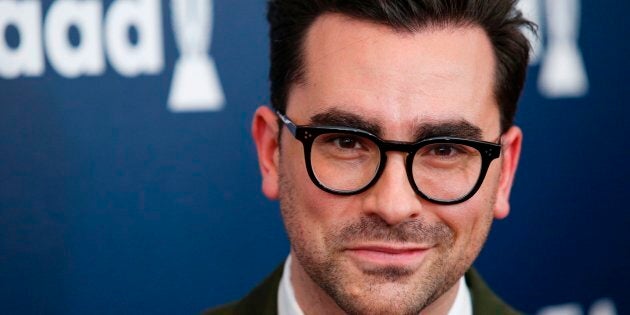 There's a lot for reviewers to say about "The Great Canadian Baking Show" — Canada's spin on the "Great British Bake Off" — which premiered on Wednesday.
But many people were taken aback by one piece of commentary in particular.
"[Judges Bruno Feldeisen and Rochelle Adonis] are a tad stiff and nervous and little wonder – at any moment, they know they might be swarmed by the feyness of Levy and the tweeness of [actress Julia] Chan," Doyle wrote, after having already questioned why the CBC had hired Levy for the job.
And it was the use of the word "fey" that raised a lot of eyebrows.
Merriam-Webster defines "fey" in three ways. In Scotland it means "fated to die," it can also mean someone who is clairvoyant. The third, and most likely meaning behind Doyle's usage in reference to the openly gay Levy is "excessively refined," precious and campy.
Soon after the review went up live, Levy responded with a pointed post across his social media accounts.
"As a proud gay man, being criticized for my "feyness" (defined by Merriam-Webster as "campy" and "precious") in today's Globe & Mail struck me as offensive, irresponsible, and homophobic," he wrote.
Levy went on to tell the "fey" people of the world to remember their "feyness" wasn't deserving of criticism.
Levy's response was met with immediate support on social media.
"Wish someone told me this growing up. My "feyness" was criticized by family. Self-policing to be less "fey" made me miserable and tired," one person tweeted.
Levy's mother even responded with a short but sweet message.
Others also accused Doyle of homophobia for the comment.
"Your use of the word 'feyness' smacks of homophobic, and an inappropriately personal attack. It's a harmless & friendly baking show— relax," one Twitter user wrote.
"Most gay men know the pain of being called a fag. But we also know that prejudice often comes with a softer touch. It comes coded, or posed as a question. On Tuesday, it came coded as 'fey,'" he wrote.
Martin goes on to say he struggles to see Doyle's comment in any way other than a criticism of Levy's "gayness."
"I shouldn't have to say that it's homophobic to suggest a TV host is too gay, but here we are," he added.
HuffPost Canada has reached out to Doyle for comment.