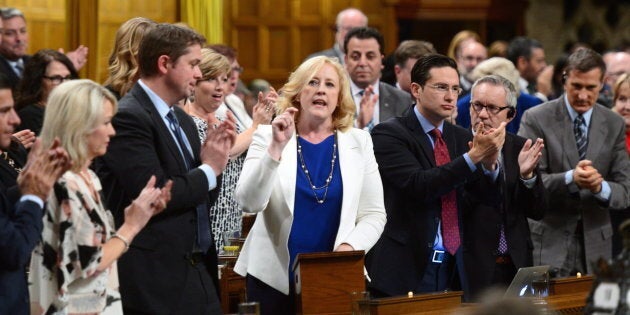 Conservatives suggested Finance Minister Bill Morneau made a sexist remark in the House of Commons Thursday when he quipped that some opposition MPs have a "tough time counting" after a question from deputy Tory leader Lisa Raitt.
The moment occurred in question period as Tories hammered the beleaguered finance minister with questions about his personal finances and disclosures to federal ethics commissioner Mary Dawson. The ethics watchdog recently fined Morneau $200 for taking too long to disclose a private corporation that owns a villa in France.
At issue Thursday was a highly unusual statement Dawson released in response to a report from The Globe and Mail. A senior government official told The Globe that Dawson was wrong to suggest there are other ministers — aside from Morneau — who currently hold controlled assets indirectly.
In a statement provided to the Globe, Dawson reportedly stated that her office "maintains that there are fewer than five ministers who have controlled assets."
Prime Minister Justin Trudeau stated this week that Morneau is the only minister in such a situation. The Liberals noted that Justice Minister Jody Wilson-Raybould had indirectly held assets but she sold them in the spring of 2016.
Dawson issued another statement Thursday saying she wasn't "at odds" with Trudeau, but deliberately chose not to give the exact number of ministers who indirectly hold controlled assets.
"The Office indicated fewer than five, giving a general sense of an upper limit to the number, meaning it could be one, two, three or four," Dawson said.
'He better count on getting some better communications advice'
Raitt brought the confusing matter up in the House, noting how Morneau has frequently spoken about how he trusts the watchdog's advice.
"Is there a senior government official over there who will actually say there's no other minister in the same position (Morneau) put himself in?" she asked.
"We know on this side of the House that some of the members of the opposition have a tough time counting," Morneau shot back, sparking jeers. "What we know is that the number two is less than five.
"What we can say is that there (are) two (ministers). One member who divested all of the assets 18 months ago and another member, myself, who's divested his assets most recently."
While House Speaker Geoff Regan rose to note that all MPs can "count very well," Raitt was ready with a shot of her own.
"One thing that we can all agree on is this minister of finance needs help in more than counting," she said. "He better count on getting some better communications advice."
A few minutes later, Tory finance critic Pierre Poilievre accused Morneau of "belittling" Raitt and "lashing out personally" against those asking tough questions. He called on Morneau to tell Canadians what he is hiding in his "vast network of numbered companies and trust funds."
Morneau again went on the offensive, questioning if Poilievre knows what an "asset" is.
A little later, however, Morneau told the House he respected Raitt and wasn't questioning her "numeracy skills."
"I have the highest respect for the member for Milton, who I know has had a positive business career," he said.
Tory House Leader Candice Bergen rose on a point of order after question period to accuse Morneau of saying Raitt "didn't know how to count." Bergen said Raitt is a veteran MP with a law degree who had a successful business career.
"I believe that these are some of the reasons why, many times, women don't want to get involved in the political process because when, maybe things are tough, insults like that... 'bimbo,' 'you don't know how to count,' 'you're not smart,' 'you're a puppet.' Things like that are hurled many times at women politicians, women in general," Bergen said.
Liberals on committee nix Morneau invitation
Earlier this week, MPs on the Commons' ethics committee voted to begin a study on the Conflict of Interest Act, and to invite Dawson to testify.
The NDP, which moved the motion, had hoped to invite Morneau as well to explain his decision to use the loophole to maintain a million shares in the pension company his father founded.
Liberal MPs on the committee, however, had other ideas. They nixed the Morneau invitation and pushed the committee study to January or February of 2018. Dawson's contract currently expires on Jan. 8, 2018.
The Conflict of Interest Act has not been updated since the Conservatives' made the code of conduct law back in 2007. In a 2013 report, Dawson recommended that MPs close a loophole that she said at least one public office holder was using to circumvent a ban on holding publicly traded securities. She never mentioned it publicly and never highlighted this as a priority item in her testimony — until the controversy over Morneau's assets erupted.
Trudeau dusts off 'better is always possible' line
At an event in Brampton Thursday, Trudeau was asked if his government would close the loophole — a question the opposition has been asking repeatedly in Parliament to no avail. Trudeau responded that he was pleased the Commons committee would be looking at ways to strengthen the law.
"The rules have always evolved and changed over the years and there is always opportunity to improve them," he said.
Still, he insisted, Liberal ministers had "followed those rules."
"Indeed, a number of us have chosen to go above and beyond [Dawson's] original recommendations... As I said in Brampton, a little over two years ago," Trudeau added, referencing the Liberals' big campaign rally during the 2015 election: "'Better is always possible.'"