Whether you have a new baby this Christmas, or are just looking to make some family memories, setting traditions is part of what makes the holiday season so special.
But the pressure to come up with these experiences can seem slightly overwhelming for a new parent who's just trying to get through the holiday season in one piece.
Don't worry — we got you. Here are some traditions you (and your kids) will want to repeat every December.
1. Find That One Gift You'll Bring Out Every Year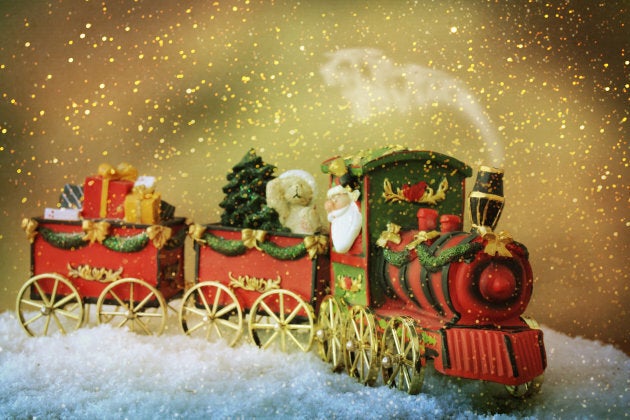 Labouring over what gift to get your kid ? The pressure somehow seems worse if it's baby's first Christmas, and the present you give your child is no longer a present at all but a symbol of love and all Christmases to come. Sheesh, we're already exhausted just thinking about it.
Trust us, your new baby will get plenty of toys, from the grandparents and extended family. So try using this opportunity to give your child something more meaningful, such as a musical snow globe, a bound copy of your favourite Christmas story, or a train set that gets brought out every year.
That way, every Christmas you can tell your child about their very first gift while sharing in the moment together. Which is kind of lovely, right?
2. Give Pyjamas On Christmas Eve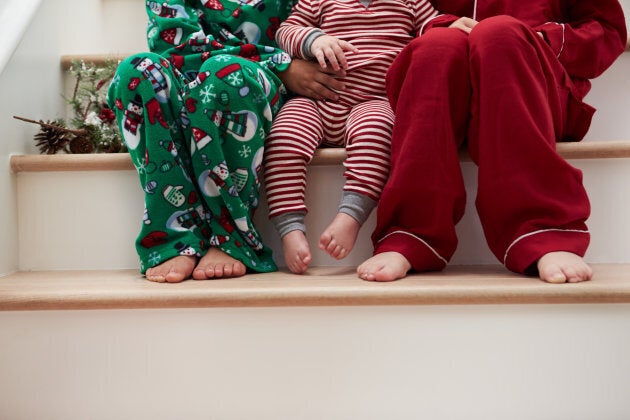 If you like the idea of opening one gift on Christmas Eve, try making it pyjamas. Christmas jammies are adorable no matter your age, but the cuteness factor triples for babies. And in the years to come, the feeling of wearing something new to bed will make your kids even more excited about Christmas than they already were. Plus the whole family can lounge around in style the next morning as you open gifts. Don't forget to take photos!
Bonus if you can find a matching family set.
Tip: If you have a new baby or kids with sensitive skin, make sure to wash the new pyjamas before you wrap them so no one spends their Christmas itchy.
3. Take Photos With Santa. Just Do It.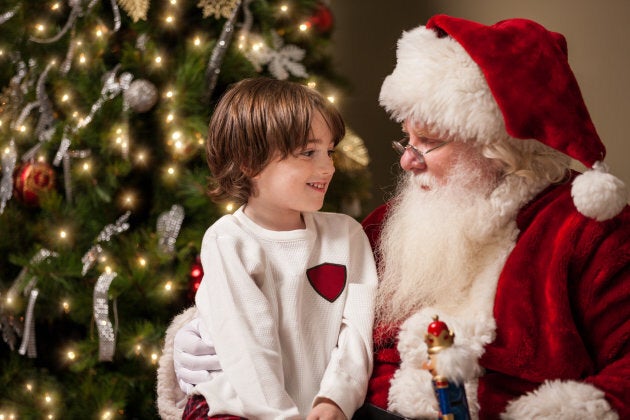 Yes, this means you have to go to the mall. During Christmas shopping season. With a baby. But Santa photos are a classic, and way less expensive than a professional holiday photo shoot. Since there's a good chance your kid is going to freak out in front of a camera regardless, why not cut your losses? (Or, do both. We're not here to judge).
You'll love looking back on these photos of your little elves when they're not so little anymore.
Bonus: these shots make great gifts for the grandparents.
Double bonus: they also make great stocking stuffers for baby's first Christmas. HOW did Santa get a picture of you?! Hmm, must be magic...
4. Make (Or Buy) A Personalized Stocking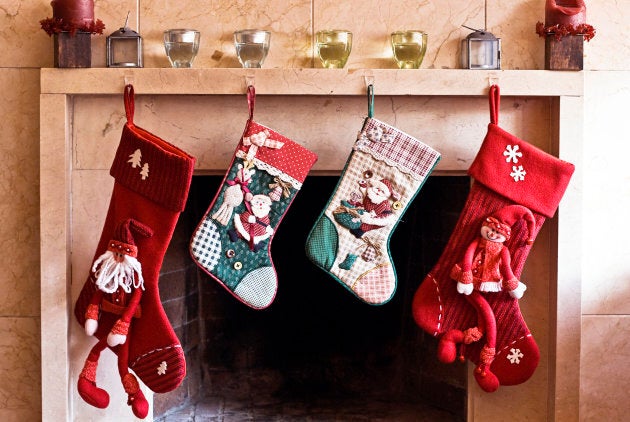 They'll use it every year, so personalizing baby's first stocking is a pretty special thing to do. How much will they love pulling it out of the box each year and seeing their name embroidered on top?
Stores such as FabricVille sell kits to make stockings, and if you're not crafty, pawn the job off on a grandparent or family member who is. It can be their gift to the baby. They'll love the idea of making something so special that they'll probably cry, so everyone wins.
5. Give (And Read) Classic Christmas Books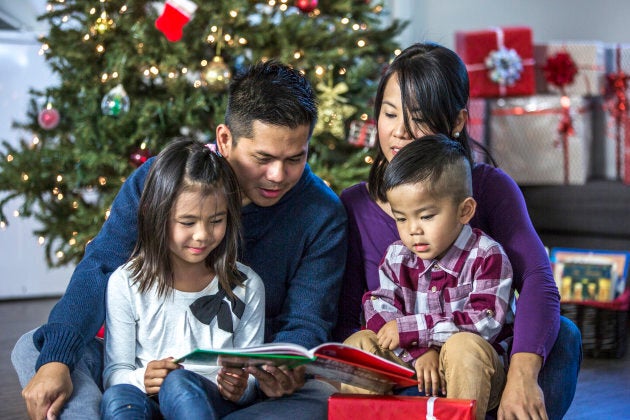 Still looking for more gift ideas with meaning? You can't go wrong with classic Christmas books.
Pick a stack of your favourites, and make sure to write your baby a sweet message on the inside cover. Read them together by the light of the tree and feel your heart explode. Then, break them out every year to read together as a family. It's so simple, and so sweet.
Bonus tip: "The Night Before Christmas" (also known as "A Visit From St. Nicholas") is a beautiful story to give on Christmas Eve. Make sure to get a picture of you reading it to your baby for the first time.
6. Make (Or Buy) Special Ornaments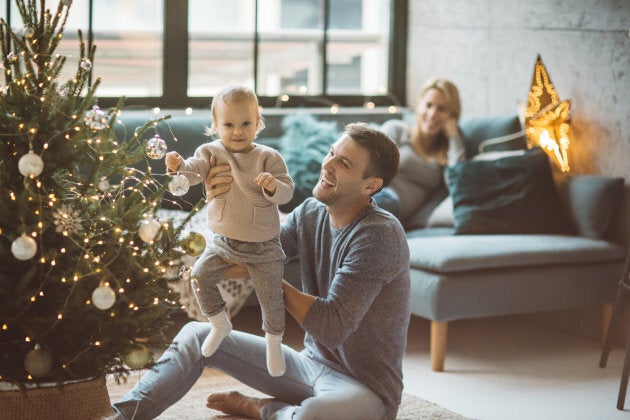 Is it your baby's first Christmas? Mark it with their first personalized ornament. You'll want this to be special since it will go on the tree every year. You'll also probably want it to be unbreakable. Because babies love to throw.
Bonus: Make extras to give out as gifts! Sites such as ShutterFly let you make personalized photo ornaments. Put your baby's sweet face on an ornament, order a dozen, and give them to the grandparents, aunts, uncles, daycare provider — whoever you think would appreciate your delightful angel's mug on their tree (who wouldn't, though?!).
7. Order Personalized Christmas Cards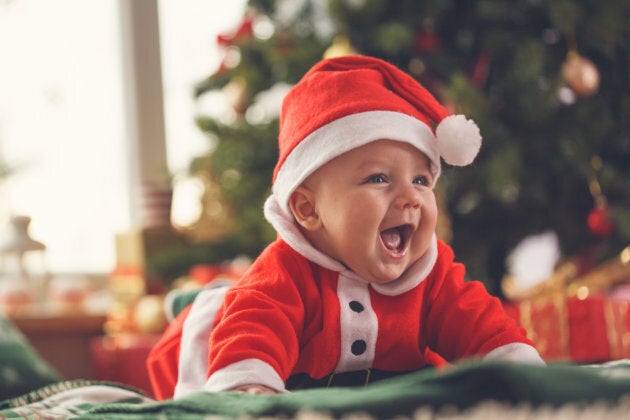 Listen, we both know that you're going to buy some kind of adorable Christmas getup for your baby to wear this season. So, try to snap a good photo of your little Santa (under the tree or beside a ball of Christmas lights are both classic options), and turn those pictures into Christmas cards.
This year, it's mostly about showing off your adorable babe in an elf hat. But in future years, your kids can help stick stamps and sign their names to spread holiday cheer to friends and family.
8. Wear Crazy Christmas Sweaters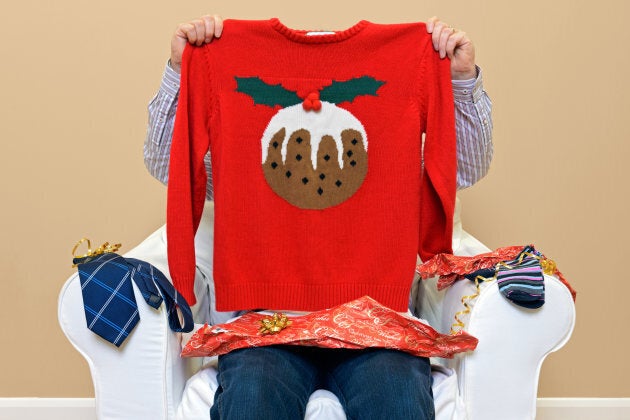 Not just for hipsters and awkward office Christmas parties anymore! Crazy Christmas sweaters have gone mainstream, but finding them is still half the fun.
Check your local thrift stores for the real deal, or just buy a new one. The important thing isn't how you got the sweater, but to look terrible. Plus it's fun to have something festive to wear when you're decorating the tree, baking cookies, or watching your favourite holiday special.
Take a photo so your child can know that you started embarrassing him from the get-go.
9. Make Decorating A Family Affair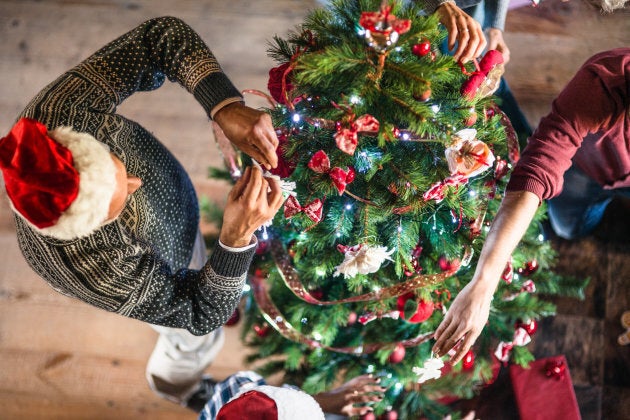 (And wear those Christmas sweaters while you're doing it).
Put out your favourite snacks, pump the Christmas music, and introduce baby to the joy of decorating their first tree as a family. The lights, the colours, the sparkle — your little one will be in heaven. Just be careful with all those hooks (you may want to skip them entirely and hang the ornaments straight on the branches) and pass on the tinsel this year, as both probably look pretty delicious to your kid and could pose choking hazards.
Hold up your baby so they can see their personalized ornament, and don't forget to take a photo.
10. Have One Special Christmas Day Activity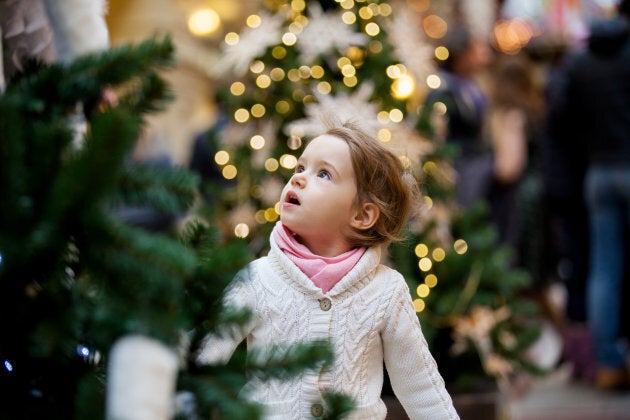 Go for a walk to see the Christmas lights. Have lunch at your favourite (kid-friendly) neighbourhood pub. Bring your neighbours candies. Go to church.
Whatever your jam might be, it's nice to break up the day with an activity that gets you out of the house for a bit. A little fresh air goes a long way, especially with kids.
Whatever you do, just make sure to do it every year, and do it together. That's what makes it so special.
11. Relax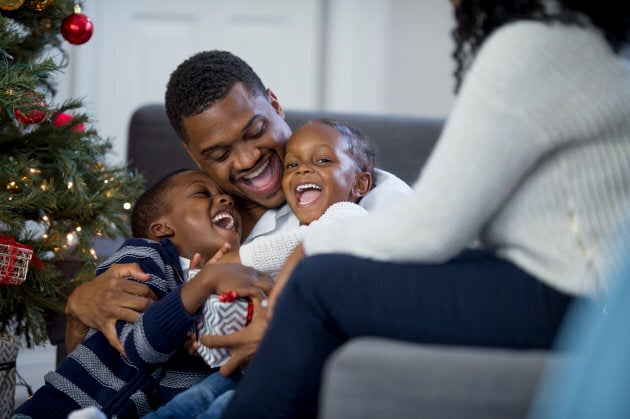 So, you didn't make cards because you were busy keeping your child alive. Baby's first Christmas ornament is stuck at customs. You had to remove the bottom three feet of decorations from your tree. And your little elf threw up in Santa's beard before they could take a photo.
While these traditions are all lovely ideas to try, the most important part of the holidays is having a mulled wine after the kids go to bed, er, we mean, being together as a family. So try not to put too much pressure on yourselves, OK?
You still have a few more years before they start remembering Christmas, anyway.