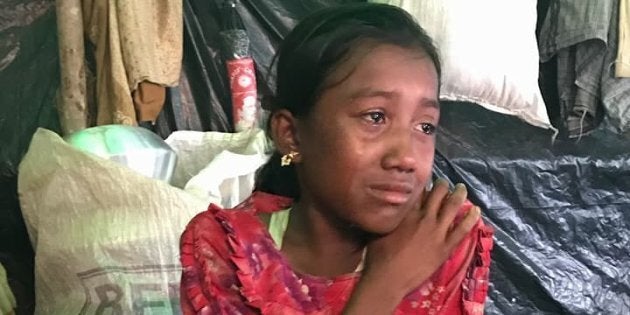 At first, Fozia Alvi did not notice the little girl in the corner.
The Calgary doctor was listening closely to the woman in front of her tell a story of arson, murder and rape. She had met her shortly after finding a boy with "bent legs." He had been discovered alone, days after his parents were killed in front of him, she was told.
These horrific tales were common in the camps outside Cox's Bazar in Bangladesh, where Alvi spent just over a week treating Rohingya refugees fleeing violence and persecution in Myanmar.
But of all the stories she shared of her time treating members of the persecuted Muslim minority, her voice cracked most when she recalled catching the eyes of the little girl in the corner.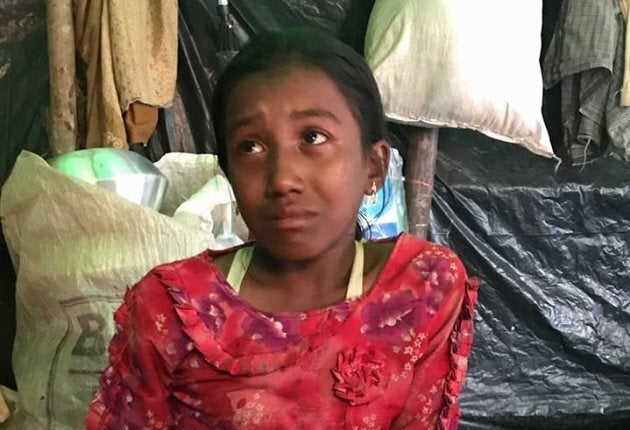 "She was the same age as my daughter, 11 years old," Alvi told HuffPost Canada over the phone. "We did not notice her there. She was sitting in the dark, sitting quietly, crying.
"My heart stopped for a moment."
Alvi said the girl listened as her mother described how her husband was murdered by Myanmar military forces, how their home was set on fire, and how she was later raped by several men multiple times.
Alvi said it was likely the girl was sexually abused as well.
"I could not just forget that girl, because her tears were telling me lots of things."
'I need to go'
Alvi said her decision to pause her busy family practice and head to Bangladesh was solidified after hearing the plight of a pregnant woman.
On Oct. 14, she was having dinner with Shaukat Hussain, a director for the Islamic Circle of North America's Canadian chapter. At this point, she knew enough about the Rohingya crisis to help with the odd fundraiser, but she didn't understand the extent of the refugees' plight.
Hussain told her there was a desperate need for doctors, with up to 90,000 pregnant women in the camps.
He showed her photos and videos collected by his group from the camps. One of the refugees documented, Alvi said, was a woman who had delivered her baby on a boat and then proceeded to walk for days to get to the camp — with the child's umbilical cord still attached.
"I decided, like in one second. I said that I need to go," Alvi told HuffPost Canada.
The meal not even over, Alvi started calling friends and colleagues and urged them to join her on an upcoming ICNA Canada relief mission.
A few told her they were worried about security; others said they had travel issues.
"Some of the people said 'You know, Fozia, you're going on a suicide mission' because there's a lot of disease outbreaks," Alvi said. "Basically, I just laughed at them."
Fear did not justify complacency, she said, as she pointed out she could also die in a car accident in Calgary. She booked her ticket the next day.
Eleven days after that dinner with Hussain, Alvi and fellow Calgary doctors Fizza Rafiq and Sameena Bajwaa arrived in Dhaka. The following morning, Alvi and her team would take a front-row seat to what the UN calls the world's "fastest growing" refugee crisis.
Big banners, empty tents
Alvi and her team travelled a few hours outside of Cox's Bazar to several camps filled with tens of thousands of Rohingya refugees. More than 800,000 of them are now living in Bangladesh, according to the UN.
One of the first things Alvi noticed were the big signs and the empty tents: footprints of other organizations that had come to help refugees.
She asked the local team of physicians and medical students with her where those groups went.
"The local doctor told me that after the crisis began two months ago, lots of organizations came in and they made the big banners, the big pictures," she said. "And they vanished after four or five days."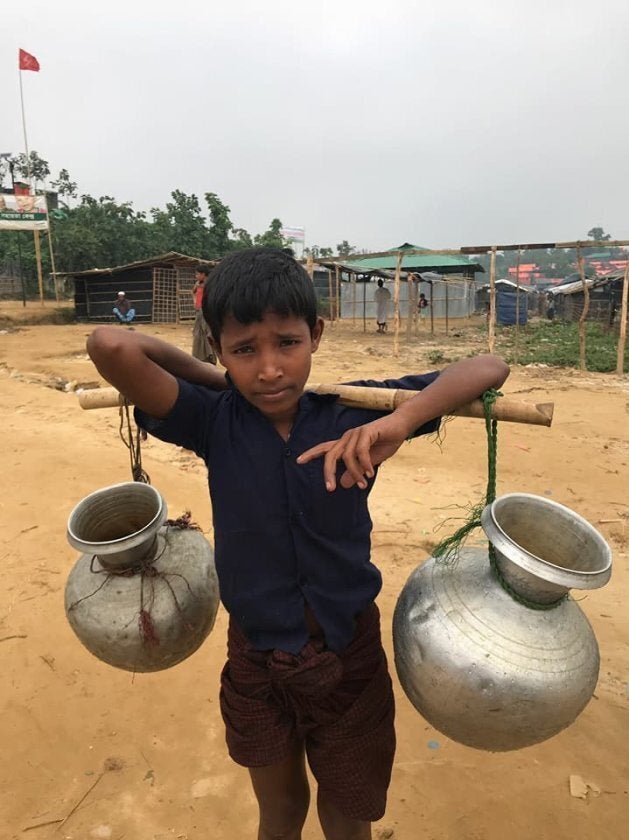 Alvi and her team set up their own treatment camp. Their interpreters told the refugees they would start seeing patients at 9 a.m.
"We got there about 8:30 and there was a long lineup already," Alvi said. "There was like hundreds of people standing in the lines, waiting for the doctors to come."
Over the next days Alvi would learn that the vast majority of the refugees have been living among a locust of contagious diseases, including tuberculosis. Local doctors, she said, did not have the appropriate medication or even the masks needed to protect themselves from infection, either.
She would find out almost every single patient had respiratory problems like asthma, and the doctors did not have inhalers to help manage their conditions.
... every single patient I was seeing, they were burning with infections.
She asked the doctors what they did have. They told her they had tablets of Ventolin — an emergency solution that she said would be impractical to administer to, say, a child who might be in distress.
The inhalers were just too expensive, they said. That didn't sit well with Alvi.
That night, after returning to Cox's Bazar, she asked one of the doctors to take her to a pharmacy.
Alvi bought 50 inhalers at $10 a pop, along with some antibiotics and creams to treat open wounds, hoping they would help at least some people at the camps. But then the reality of the situation hit her even harder.
"I was thinking ... there are about 800,000 sick people in those camps. More than that, even," she said, explaining that that figure accounts for registered refugees.
"My 50 inhalers, what are they going to do? Probably they won't even last for half a day in one camp, because every single patient I was seeing, they were burning with infections."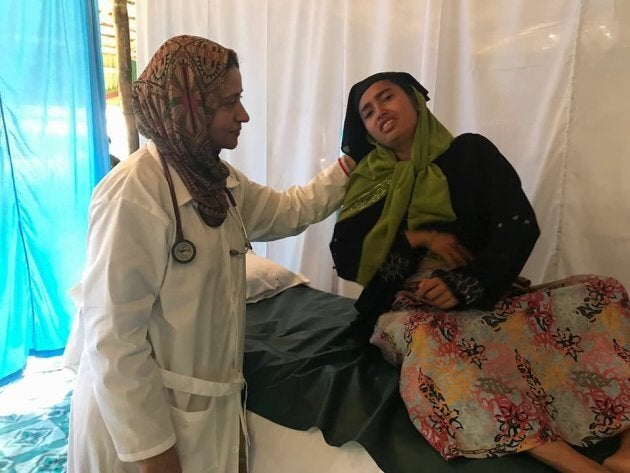 More refugees arriving every day and the carnage faced by Rohingya communities in Myanmar shows no signs of slowing down.
Malnutrition is rampant. Alvi said she saw many adults and children with muscle-wasting or atrophy — "they did not have any fat or muscle."
"We could count the ribs, actually. Ribs and all the bones, basically," she said.
A UN assessment of one camp last month found that the rate of life-threatening malnutrition among refugee children there was double that seen in May.
With the winter months coming up, the lack of warm clothing is also an issue.
Alvi's speech got faster as she talked to HuffPost about the "huge, huge issue" of pregnant women in the camps.
"Almost 99.99 per cent of the women who I have seen who were nursing ... they did not have any breast milk. And I saw the children starving to death, there was no formula," Alvi said.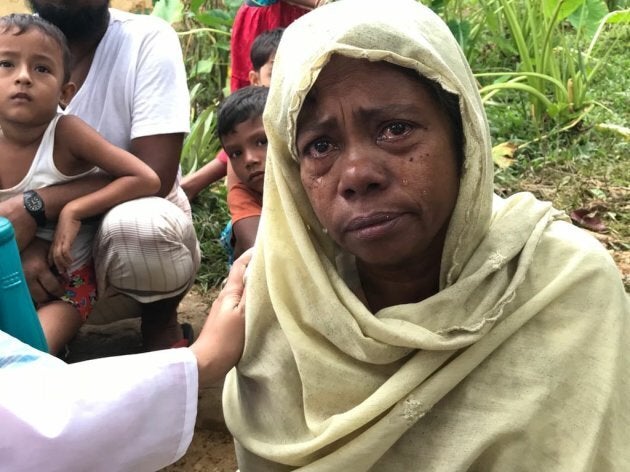 She said some delivered babies in tents on their own, others had to walk up and down hilly terrain with their newborns.
There was no privacy and no beds. Alvi said at one point she examined a pregnant woman while she sat on a stepstool.
"It was like a nightmare for me to see."
A request for Trudeau
Alvi returned to Calgary on Nov. 2. Having seen the horrors refugees face in those camps, she is using her experience to promote relief efforts.
"Every person, every patient that I have seen, they were telling me the story of horror, sheer barbarity, abuse, arson, rape, and nobody is doing anything about it," Alvi said.
The Liberal government recently announced it would be matching private donations to eligible charities working on Rohingya refugee relief efforts. Alvi said it's a positive step forward, but she wants Prime Minister Justin Trudeau to do more.
She wants to meet with the PM to let him know that, while it's important to help with food and medication, it's also crucial to give the refugees their "identity back" and guarantee them their basic human rights.
She said Trudeau should consider imposing sanctions on Myanmar, as well as revoking leader Aung San Suu Kyi's honorary Canadian citizenship.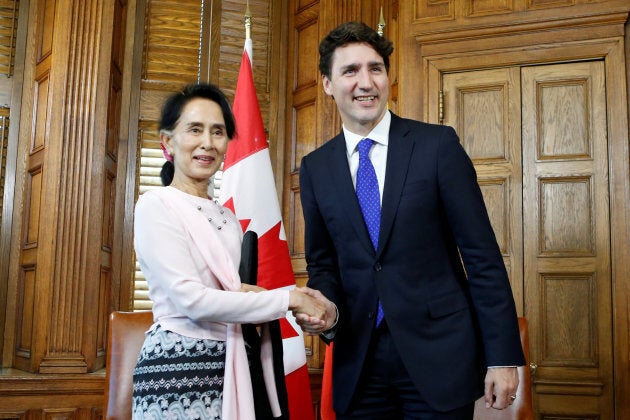 Alvi is not alone in calling for that. An Angus Reid Institute poll of 1,504 Canadians found that 40 per cent wanted Suu Kyi's honorary citizenship revoked.
But the survey, released Tuesday, also found that Canadians do not want their country to get further involved in the conflict. Fifty-five per cent of those polled said the crisis was not a problem for Canada.
Alvi said Muslim-majority countries like wealthy Gulf states have shown similar attitudes, but she hopes Trudeau will act differently, so that the hundreds of thousands of refugees — like that little girl in the corner — get the attention they deserve.
"We have lots of hope on him," she said.
"Everybody's quiet on this genocide."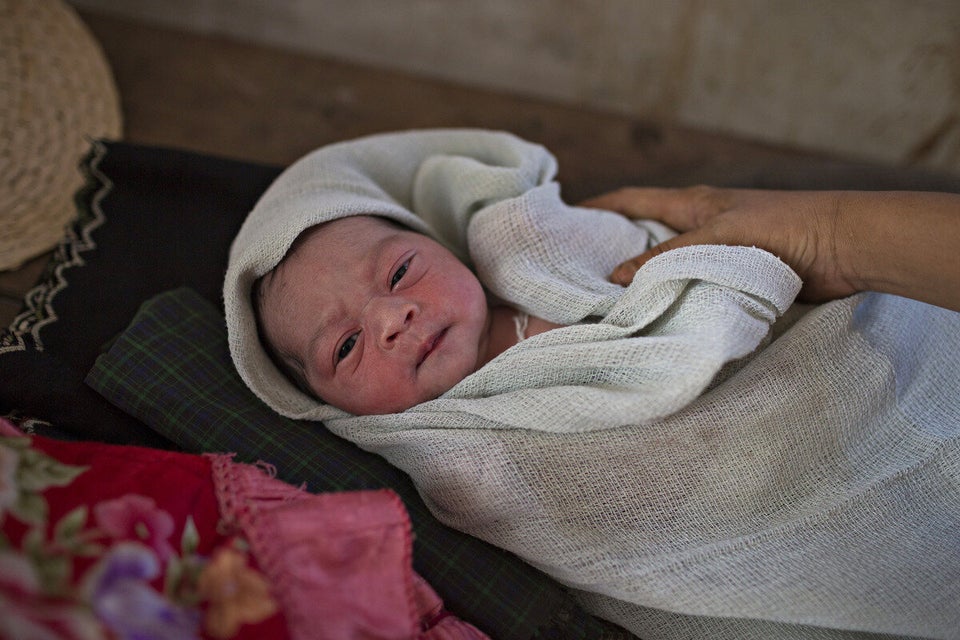 Rohingya Refugees Face Health Crisis As Myanmar Cuts Off Aid