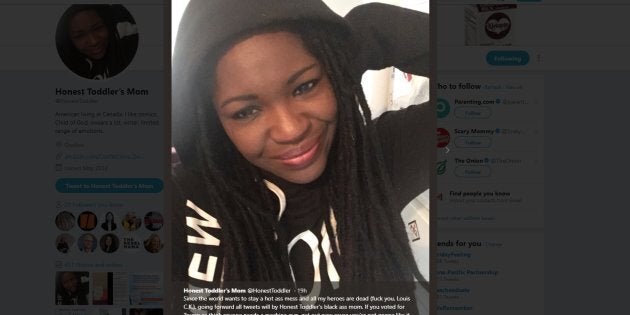 The "Honest Toddler" — who voices their outrage across several wildly popular social media accounts with more than one million combined followers — has had to put up with a lot.
Having to stay in bed until sunrise. A granola bar that broke in half. Toast without enough butter on it.
But, after years of bemoaning injustices of childhood, "Honest Toddler" finally snapped.
After taking over the "Honest Toddler" twitter account Thursday — even changing the name to "Honest Toddler's Mom" and swapping out the old profile photo of an image of animal crackers to one of Laditan's own smirk — Laditan tweeted out her opinions on U.S. President Donald Trump, Louis C.K., and the backlash against NFL players who chose to kneel during the national anthem.
Laditan also confronted those who questioned whether she was worried about her fanbase, ruining her career, and even whether she was intoxicated.
Responses on Twitter, however, were largely positive.