With the holidays coming up, many of us are starting to think of gifts to buy our loved ones. But for those of us in long-term relationships, we may have only one thing on our minds: getting engaged.
That's right, folks, proposal season is on the horizon and come Christmas Day, some of us might be looking for a little box under the tree.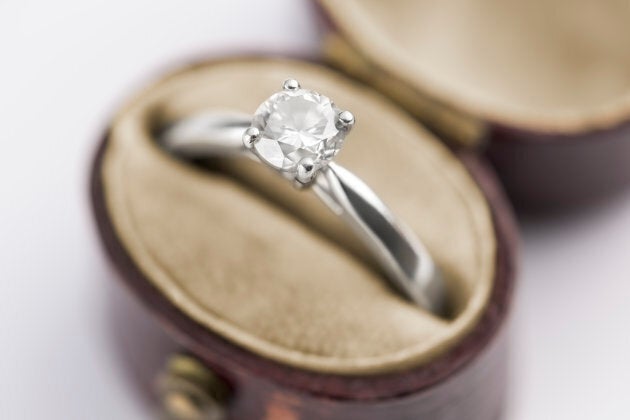 The site recently released their 2017 Jewelry & Engagement Study, in which they surveyed more than 14,000 engaged or recently married brides and grooms in the U.S. about ring shopping, proposal planning, and other stuff that goes into getting engaged.
They found that the average spent on an engagement ring went up 25 per cent from 2011 — $8,090 from $6,490 — meaning that despite the softening of the diamond market, and the "concern" that millennials aren't buying diamonds, people are willing to shell out a lot of money to make their partner happy. Nine in 10 brides reported being satisfied with the amount their fiancé spent on the ring, while only 6 per cent said they wished their partner had spent more, and 4 per cent said they wished their partner spent less.
But that doesn't mean grooms can afford this bling. According to the report, nearly one in three (29 per cent) grooms reported spending more than they planned on the engagement ring.
The study also reported that people said they spent about 4.4 months to plan a proposal, while it took around 3.5 months to look for a ring. Couples also said they looked at an average of 26 rings before picking the one they wanted, and that they were more interested in shopping for a ring online.
While the study found that the majority of grooms (86 per cent) still purchased rings at brick-and mortar jewelry stores, 14 per cent said they bought an engagement ring online, up from 10 per cent in 2011. Those who bought online reported better deals on rings (63 per cent), enjoyed the convenience (40 per cent) and wanted to build a custom ring (29 per cent) as main reasons for choosing to shop over the web than at a store.
While the study doesn't give explanations for why people are choosing to spend more money on engagement rings, we only have to look at celebrities to figure out part of the reason.
But that doesn't mean you should spend your life savings on a ring. (Please don't do this.) Although some would say you should spend three months' salary on an engagement ring, this being modern times, you should let your comfort level and finances dictate how much you want to spend.
"Engagement ring culture has come to imply that the bigger the love... the bigger the diamond, which puts a lot of pressure on the purchaser to get one that sings," notes The Feminist Bride. "But that pressure can put a lot of financial restraint on a person or a couple, especially when the standard to put two-month salary towards it is nothing more than the De Beers marketing campaign guideline (i.e. how much of your money they want from you)."
The important thing to keep in mind, notes Money Under 30, is to spend what you feel you can afford.
"Don't let others tell you what to spend. How much you should spend on an engagement ring is entirely up to you and your fiancé(e)," they write.