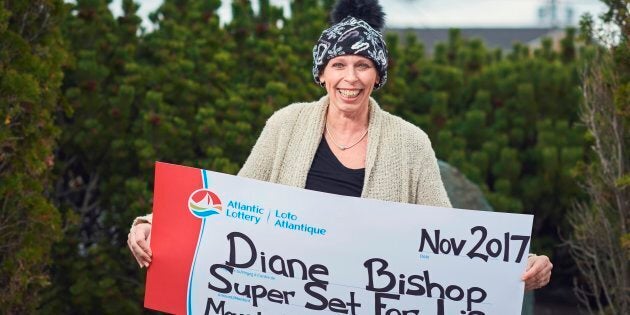 A Newfoundland mom who won the lottery says she can now retire and focus on fighting cancer.
Diane Bishop, of Mount Pearl, Nfld., won the Super Set for Life $1.5-million prize, according to a press release from Atlantic Lottery Thursday.
"This is life changing," Diane said in the statement. "It's eased my financial strain. Now I can retire and take care of my health."
Lottery win wasn't only 'miracle'
Winning the jackpot wasn't the only piece of good news she received. Bishop says her chemotherapy is working for the first time since her battle with stage four breast cancer began in April 2016.
"These two miracles are the power of prayer," she said. "I know the cancer is incurable but I can now turn my attention to fighting it full time."
Bishop's win comes a month after she told CBC News about her financial woes. The single mother said she was unable to stop working at the convenience store she manages because government support barely covered her mortgage payments.
Sympathetic readers rallied and thousands of dollars were raised for Bishop to receive treatment in Toronto, according to the broadcaster. Weeks later, she bought a lottery ticket from the same store she manages.
"I don't know why I bought it," she said in Thursday's statement. "I don't play much, though I've sold a few big winning tickets over the years."
She was given two options: her win could be dispensed in annual payments of $100,000 for the next 20 years, or she could take a $1.5-million lump sum payment. Bishop chose the latter.
I'm going to continue to fight.
She said she will be donating the money raised for her treatment to another cancer patient, according to The Telegram. The win also means that she can now afford treatment in her province, so she can spend Christmas with her family.
Bishop has purchased a new bed and recliner with her prize winnings, both of which will help with the daily discomfort she experiences from her illness. She also plans to pay off her mortgage as well as her son's.
Moving forward, Bishop told the CBC she's focusing on getting treatment and lobbying the provincial and federal governments to help other patients who might be in the same tough situation she was in.
"I'm going to continue to fight," she said. "This money doesn't change anything. Retirement gives me more time to make more emails, more phone calls, so government is not off the hook."