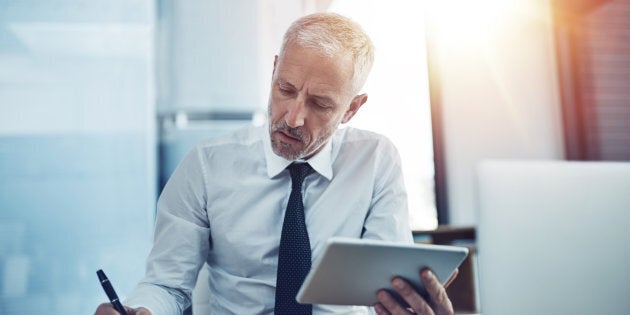 Less than half of Canada's population aged 25 to 54 worked a full-time job for all of 2015, census data shows.
Only 48.2 per cent of people in that prime working age group worked a full-time job for the whole year, StatCan said.
Compared to a decade earlier, men saw a greater decline in the rate than women, though women were overall less likely to hold a full-time job through the year, both then and now.
Some 56 per cent of men aged 25 to 54 worked full-time all year in 2015, down from 63.3 per cent a decade earlier — the lowest rate since 1980, the first reference year for which comparable statistics were collected.
The proportion of women in that age group who worked full-time all year also declined from 46.4 per cent to 43.7 per cent over the past decade.
It's a sign that part-time and precarious work is on the rise in Canada, with studies pointing to it becoming the new norm over the next decade. An April survey from temp agency Randstad Canada estimated 20 to 30 per cent of jobs in Canada today are "non-traditional," meaning temp work, contract work or self-employment.
Canada's overall employment rate in May 2016 — when the census was administered — was 60.2 per cent, down from 62.6 per cent in May 2006.
The census data pointed to regional differences in employment rates in 2016, with Prairie provinces (Alberta, Saskatchewan, and Manitoba) boasting above-average numbers consistent with an above-average number of people moving there because of work prospects.
Immigrants also made up a larger share of Canada's work force in 2016, acounting for 23.8 per cent of the labour force, up from 21.2 per cent in 2006. In Toronto, immigrants made up half the workforce, and in Vancouver and Calgary, they represented 43.2 per cent and 32.5 per cent, respectively.
More seniors are also staying in the workforce, with one-fifth of workers over 65 staying on the job in 2016 — twice the rate of a decade earlier.
Job growth was highest in service-producing industries, and the largest employers were in health care and social assistance.
Contrast to latest job numbers
The census numbers are a stark contrast to Friday's job numbers, which showed Canada adding 390,000 net new jobs over the past year, representing a 2.1 per cent increase in total jobs — faster than population growth.
Full-time work has gone up by 441,000 in the past year — representing a 3 per cent gain — at the fastest rate in 15 years, according to TD Bank.
In October, Canada added 49,900 part-time jobs and 29,600 full-time jobs.
And despite an economy showing signs of losing steam in recent months, November represented Canada's twelfth consecutive month of job gains.