WASHINGTON ― Sen. Al Franken (D-Minn.) officially lost the support of many of his colleagues Wednesday, when more than a dozen Democratic senators and the chairman of the Democratic National Committee called on him to step down amid multiple sexual misconduct allegations, including groping and kissing women without their consent.
Sen. Kirsten Gillibrand (D-N.Y.), who has been a leader on raising awareness about the epidemic of sexual misconduct, was the first to call on Franken to go.
"I have been shocked and disappointed to learn over the last few weeks that a colleague I am fond of personally has engaged in behaviour towards women that is unacceptable," she said in a Facebook post. "I consider Senator Franken to be a friend and have enjoyed working with him in the Senate in our shared fight to help American families. But this moment of reckoning about our friends and colleagues who have been accused of sexual misconduct is necessary, and it is painful. We must not lose sight that this watershed moment is bigger than any one industry, any one party, or any one person."
Moments later, several of Gillibrand's female colleagues also began calling for Franken's resignation.
"I'm shocked and appalled by Sen. Franken's behaviour. It's clear to me that this has been a deeply harmful, persistent problem and a clear pattern over a long period of time," Sen. Patty Murray (D-Wash.) said in a statement. "It's time for him to step aside."
Fellow Minnesota Sen. Amy Klobuchar (D) notably did not join her colleagues in calling for Franken's resignation.
"Senator Klobuchar personally spoke with Senator Franken this morning. As has been reported, he will be making an announcement tomorrow morning," her state director, Ben Hill, said in a statement.
Malesenators, including Sen. Dick Durbin (D-Ill.) ― the caucus' No. 2 member ― also followed suit.
Seven women have now come forward with allegations that Franken sexually harassed them over the years.
A tipping point for the Democratic senators was a story published Wednesday by Politico, in which a woman said Franken tried to forcibly kiss her after a taping of a radio show in 2006. Franken was not yet a senator, and he reportedly told the woman that it was his "right as an entertainer" to kiss her.
For some Democrats, the comment was uncomfortably similar to what Donald Trump said on that famous "Access Hollywood" tape: "You know, I'm automatically attracted to beautiful — I just start kissing them. It's like a magnet. Just kiss. I don't even wait. And when you're a star, they let you do it. You can do anything."
"There were new allegations today, and enough is enough," Gillibrand said Wednesday at a press conference on Capitol Hill. "We need draw a line in the sand."
There were new allegations today, and enough is enough. We need draw a line in the sand. Sen. Kirsten Gillibrand (D-N.Y.)
"Democratic women colleagues have been in contact for quite some time regarding the path forward for Sen. Franken," a Senate Democratic aide told HuffPost. "Today's action was a result of mounting frustrations over the increasing number of accusations."
Another Democratic aide added that by last week, there was growing dissatisfaction with Franken within the caucus and frustration that there wasn't more happening. The conversations among members picked up Wednesday morning.
Democrats also said there was increased momentum because the new allegations came on the same day that Time magazine named the "Silence Breakers" its person of the year, honoring the women who have come forward and spoken out about harassment.
And they couldn't credibly go after Republicans for supporting Alabama Senate candidate Roy Moore ― who has been accused of sexual misconduct toward teen girls ― without trying to clean out their own house first.
Gillibrand stopped short of calling for Democratic leaders to pressure Franken to resign, but said that an ongoing Senate ethics investigation is "not equipped" to adequately address the situation.
"I do not feel that he should continue to serve," she said of Franken. "Everyone will make their own judgment. I hope they will make their own judgment."
Franken's office said the senator will make an announcement about his political future on Thursday.
Tom Perez, the chairman of the Democratic National Committee, also called on Franken to resign. Meanwhile, the Republican National Committee announced this week that it was jumping back into the Alabama Senate special election and would be giving money to Moore.
Also on HuffPost: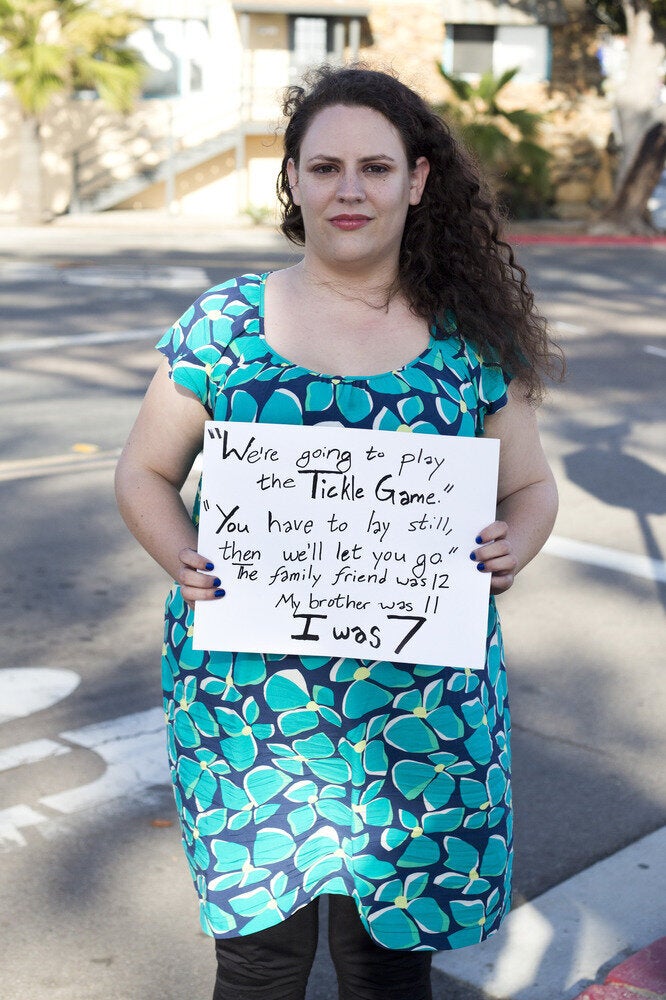 40 Powerful Images Of Surviving Sexual Assault