OTTAWA — NDP Leader Jagmeet Singh said more respect is needed towards people with disabilities after he was asked if Liberal minister Kent Hehr should keep his job after making flippant remarks to a group of thalidomide survivors, calling their advocacy work a "sob story" cause.
Singh spoke to reporters in the House of Commons after the party's weekly caucus meeting.
"Any Canadian living with disabilities is facing extreme difficulties in their lives and we need to be compassionate and empathetic and understand that — that reality that people face," Singh said. "And we need to ensure that anyone speaking to government coming into these halls should be treated with respect and dignity. I think that should be the focus."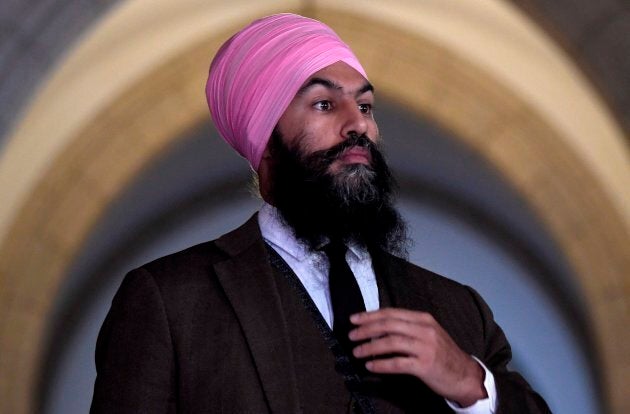 The federal leader was asked if he sided with NDP MP Nathan Cullen's remark made a day earlier on CTV's Power Play: "If that's not a fireable offence, I don't know what is."
Singh was reluctant to agree with Cullen. "For me, again, I think we need to focus on the survivors," he said.
In a statement Tuesday, Hehr apologized to members of the Thalidomide Survivor Task Force Group after they held a news conference earlier in the day to discuss comments the minister made at an Oct. 19 meeting.
Thalidomide was once prescribed the anti-nausea medication to pregnant women in the 1950s and 1960s. The government-approved drug caused children to be born with disability problems including missing or malformed limbs, blindness, and deafness.
The group's spokeswoman, Fiona Sampson, quoted the disabilities minister telling them: "Everyone in Canada has a sob story," and how "Lots of people have it bad in Canada — disabled people, poor people, not just you."
Hehr issued his apology in a statement: "As someone with a disability myself, it was certainly not my intention to offend anyone. While some of my comments were misconstrued, as soon as I learned that my comments were felt to be offensive, I immediately called the organization directly and apologized."
Conservative MP Lisa Raitt told Power Play host Don Martin on Tuesday that she found Hehr's apology "extremely disappointing." She said chalking it up to a misunderstanding really cut the sincerity out from under his words.
"I don't know what that means," Raitt said. "I mean, just apologize. To say that somebody else made a mistake interpreting what he said — what he said is the problem."
Speaking to reporters, Hehr denied that he made a comment to survivors telling them they had 10 years left to live. He cut himself off to shift focus on the government's work instead.
"I did not say that you only have 10— our government is working as hard as we can on behalf of people with disabilities," he said. "I did say that there are a great many people with disabilities in this country and that we are working hard as a government to try and assist all of them in all sincerity.
Health Minister Ginette Petitpas Taylor told reporters she met with Sampson weeks earlier and said her department would review settlement details, and pledged to look at parliamentary reports that indicated a group of thalidomide survivors have yet to receive compensation.
Petitpas Taylor said she would be meeting with another group of thalidomide survivors next week.