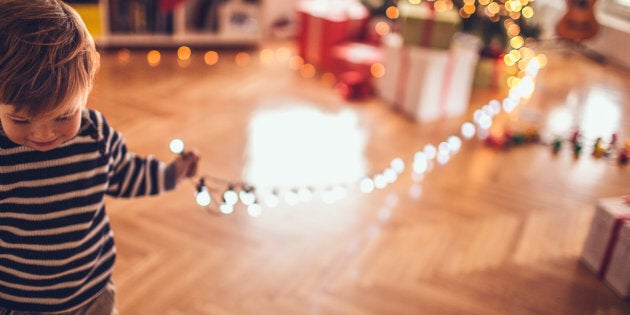 The festive time of year when we fill our homes with twinkling lights, artfully trimmed Christmas trees, and shiny decorations. Or, as your toddler sees them: must-grabs, must-climbs, and must-eats.
It might just seem annoying that your child seems dead-set on tearing down all your decorations and yanking down your tree, but there are some serious risks associated with turning your house into a winter wonderland when you have young ones around.
Choking, strangulation and suffocation are the leading causes of unintentional injury deaths in infants and toddlers in Canada, according to the Canadian Paediatric Society (CPS). Choking and suffocation alone make up 40 per cent of unintentional injuries in babies under the age of one, yet "virtually all choking and suffocation deaths and injuries can be prevented," CPS wrote in a 2012 report.
And while by now most parents know to baby-proof their homes, the holidays present a whole other set of challenges. Babies or toddlers don't necessarily listen when you tell them to stay away from breakable ornaments and extension cords, and tend to move at lightning speed when they see something they want.
"Kids will put anything in their mouths."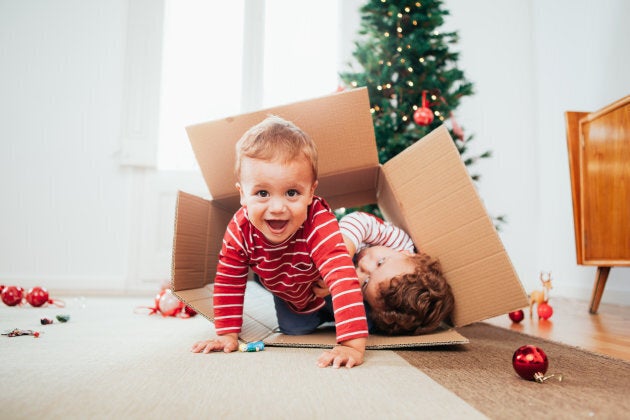 So, what are the specific dangers?
Breakable decorations, small decorations that could present a choking hazard, and anything that hangs (garlands, strings of lights) should be kept out of reach, Brisebois said.
Christmas trees need to be secured properly (with proper stands), breakable ornaments should not be hung on the lower branches, and any ornaments or tinsel that could be swallowed should be kept out of reach or avoided, he said.
Extension cords and light cords need to be covered or taped down so that little hands can't pull on them or get at the electrical sockets. Candles should never be left at a child's height, and fireplaces should be guarded with safety gates. Even gas fireplaces can get hot enough to burn a toddler's hands, Brisebois said.
Some holiday plants — such as real mistletoe, live poinsettias, holly berries, and amaryllis — are toxic if swallowed, according to the Children's Health and Safety Association website. And older tinsel may contain lead.
But wait, there's more
Apart from decorations, the most important thing to watch for is packaging, Brisebois said.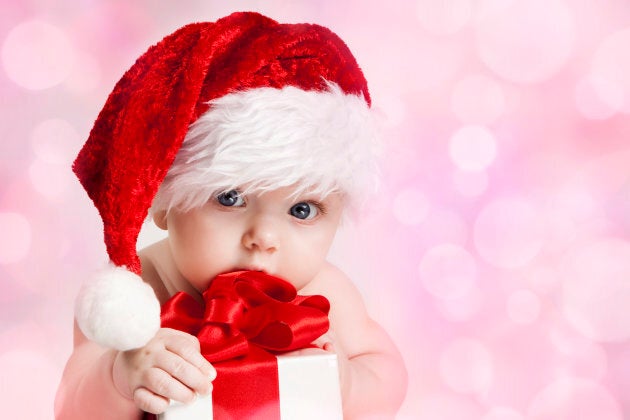 "When Christmas gifts are opened, ribbons, pieces of plastic that are left on the floor — if you have a number of kids in the house, it's pandemonium," he said.
"You have to clean it up as quickly as possible. There are a lot of instances where kids have ingested small bows or pieces of plastic that are in toy packaging, pieces of styrofoam and so on."
Parents also need to be mindful of all those festive snacks (especially hard candies and other choking hazards) and alcoholic drinks that could be left within reach of toddlers and babies, Brisebois said. And people tend to have more guests and visitors during the holidays, who might unknowingly leave those and other chokeable items on tables and surfaces that young ones can easily get at, so parents need to vigilant.
"Kids will just pick up something and drink it," Brisebois said.
The bottom line
There's no need to burn your box of holiday decorations and swear off Christmas entirely just because you have a drooler in the house. You can still deck your house for the holidays if you're mindful of these hazards.
"The main things to watch for are little items, packaging, and decorations," Brisebois said.
"Those are the things that children like."