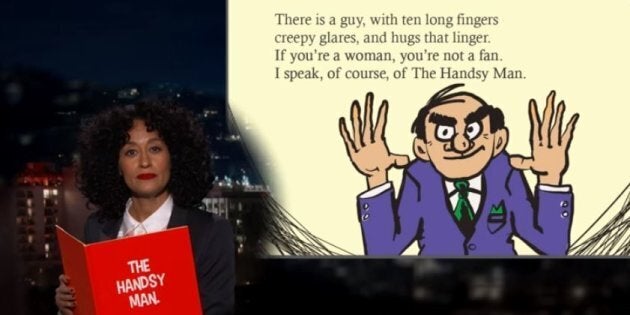 Ross used snappy rhymes to specifically call out abhorrent behaviour, such as groping a woman's breasts, voluntary exposure, and unwanted compliments. Below is a snippet:
You may not compliment my butt.

You may not call me "ho" or "slut."

And even if you're stoned or drunk,

do not expose me to your junk.
Watch Ross' reading of The Handsy Man in the video above.
"It's a systemic problem about the abuse of power that takes place across all industries and has enabled a culture of inequity to persist for far too long," she said. "Treating another human being with respect isn't complicated."
If Ross' children's book isn't enough to make clear what sexually inappropriate behaviour is, then perhaps David Schwimmer's powerful video series #ThatsHarassment can help.
The former "Friends" star launched his campaign back in April to reveal how frequently sexual harassment occurs in daily life, and how subtle it can be. Each of the six videos Schwimmer produced is based on a true story and features famous faces like Emmy Rossum, Bobby Cannavale and Grace Gummer.