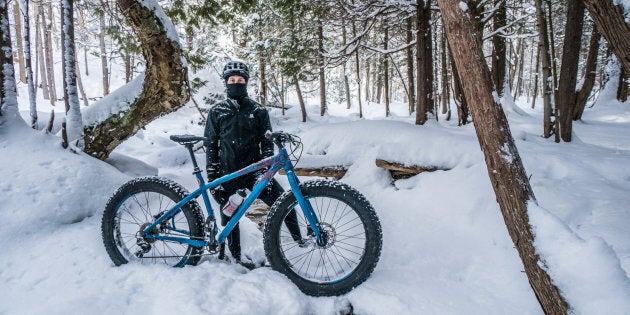 You need to know about fat bikes — a winter must-have that allows a rider to pedal through snow-covered terrain. Essentially, it's a souped-up mountain bike with wide tires only partially inflated. This allows the rider to make awesome tracks through snow and mud. It's a PPTV, a Pedal-Powered Terrain Vehicle.
But where do you ride fat bikes? BruceGreySimcoe, located in Ontario's snow belt, is the perfect playground for adventure seekers looking to take a fat bike out for a ride. Here are just some of the best trails, presented in partnership with Ontario Tourism and BruceGreySimcoe.
Fat bikers can take advantage of the cross-country ski paths at Hardwood Ski and Bike in BruceGreySimcoe. The only requirement, outside of having a day or season pass, is to enjoy the sensation of cold air blowing in your face. Do note that Hardwood is reserved for skiing only on weekends, so weekdays are primetime for fat-bike enthusiasts. There's a range of paths that vary in distance and difficulty for you to choose, from the "Nice n Easy Course" to a "Gnarly Course" and "Radical Course." Common sense and simple etiquette will ensure you have a fantastic day (or night) out.
Whether you're an expert or a novice, Explorer's Tread is a company that will take you to Lion's Head, located on the Bruce Peninsula where the popular summer destination transforms into a winter playground. Newcomers to the sport can take advantage of an introductory lesson (a two-hour trek) to get acquainted with the bike and learn the tricks of the trail. It's best to see what dates are available for these lessons as they are popular and sell out quickly. Both half-day and full-day packages are available which include protective gear, guides and the bicycle itself.
Another stellar spot for riding frozen white paths, the trail at Horseshoe Resort is approximately nine-kilometres long and ideal for those just dipping their toes into the activity. The paths are divided into the "Beaver Pond" loop which is four-kilometres long and the "Ganaraska Loop" which is five kilometres. Both start and end at the Horseshoe Resort Chalet where you can unwind with some après biking. Guides are available to perfectly fit your "technical range" on the bike as well as your "physical range" to get the most out of the experience.
Northwinds Brewhouse Ride
If you love beer, pick the Northwinds Brewhouse Ride with Ride Guides Cycling Adventures in Collingwood. This two-hour guided ride ends at Northwinds Brewhouse where a flight of beer and pretzels await. For those opting to just stick to the trail, the Collingwood path can be done in daylight or under the stars at night. It's a stunning trail that's flanked with trees and vast expanses of snow-covered land. These journeys are suited for both novice and seasoned riders.
Duntroon Sugar Shack Guided Ride
Several trails and paths are available on this two-hour guided trek, also run by Ride Guides at Highlands Nordic in Duntroon. Some of the easier paths are located near the venue's lodge and Sugar Shack, while the toughest trail at five kilometres long offers riders a great view from the lookout. You'll be taken aback by the snow-dusted evergreens and the pristine landscape.
Hop on your fat bike and head to BruceGreySimcoe where hibernation this winter is simply not an option. Plan a day away, or take a longer break and make it a whole weekend of outdoor adventure. Learn more here.