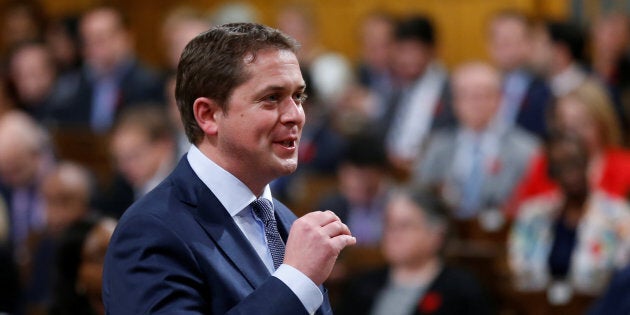 Conservative Leader Andrew Scheer tried his hand at used car sales Tuesday to mock the Liberal government's decision to buy old Australian fighter jets.
"If the prime minister is so keen on buying fixer-uppers, will he come over? Because I've got an old minivan I'd love to show him," Scheer joked in question period.
The Tory leader was poking fun at how the Trudeau government plans to purchase 18 second-hand F-18 fighter jets from Australia, while also launching a competition to replace Canada's aging CF-18s with 88 new jets by as early as 2025.
Liberals say the 30-year-old Aussie jets are needed in the interim to address a "capability gap" keeping Canada from fulfilling its commitments to NATO and NORAD. Some defence experts have told HuffPost, however, that no such gap exists, with one retired colonel calling it a "figment" of the government's imagination.
When Scheer questioned the wisdom in "replacing" decades-old jets with more decades-old jets, Prime Minister Justin Trudeau shot back that while new planes were needed "many, many years ago, the previous Conservative government dropped the ball.
"That's the reality but it's a reality that the Conservative government left us with," he said.
While in government, Tories set out to buy 65, new F-35 jets but were criticized by the auditor general for not being straight with Canadians about the costs of the controversial procurement. Liberals promised during the 2015 election not to buy the F35s.
Scheer noted that in 2012, Australia's auditor general highlighted "numerous issues" with their F-18s, suggesting they will need upgrades and repairs just to see service in Canada.
"It's far more likely that we'll spend billions of dollars just for spare parts," Scheer said.
"It's not just me who's questioning this decision. Even the Australians can't understand why we're buying their old planes rather than doing what they're doing, which is buying new planes."
'Bucket of rusted-out bolts'
Tony Clement, the Tory critic for procurement, later accused Liberals of buying little more than "a bucket of rusted-out bolts."
Defence Minister Harjit Sajjan responded by thanking Clement for his "enthusiasm" for providing equipment for the Canadian Armed Forces.
"But if this was true, they would have solved this problem a long time ago," Sajjan said.
With a file from The Canadian Press