WASHINGTON ― President Donald Trump on Tuesday responded to calls for his resignation by attacking Senator Kirsten Gillibrand (D-N.Y.) in a tweet that implied she was willing to trade sex for campaign contributions.
Trump, in an early morning tweet the day after four of his accusers called on Congress to investigate him, first blamed Democrats for the "false accusations" involving "women who I don't know and/or have never met."
In a second tweet, Trump attacked Gillibrand as "lightweight" and "a total flunky" for Senate Minority Leader Chuck Schumer (D-N.Y.). He claimed she "begged" him for campaign donations in the past and "would do anything for them."
Gillibrand responded to Trump's tweet by calling it a "sexist smear." She also pointing out that "millions of women" protested Trump's inauguration and have been stirred into activism since his election.
Sen. Elizabeth Warren (D-Mass.) accused the president of attempting to "slut-shame" Gillibrand.
"Disgusting, it was disgusting," she told reporters of Trump's tweet. "It's clear what he was getting at."
More than a dozen women have accused Trump of sexual harassment or assault. Among them are a former business partner, contestants on his reality television show "The Apprentice," and a People magazine reporter who interviewed him and his wife, Melania, in 2005.
Some of Trump's accusers have revived their stories amid the wave of misconduct claims against prominent men in politics, media and entertainment, as well as Trump's support for Alabama GOP Senate candidate Roy Moore, who faces allegations that he sexually assaulted and preyed on teenage girls when he was in his 30s.
Four of Trump's accusers this week asked Congress to hold him accountable for his actions.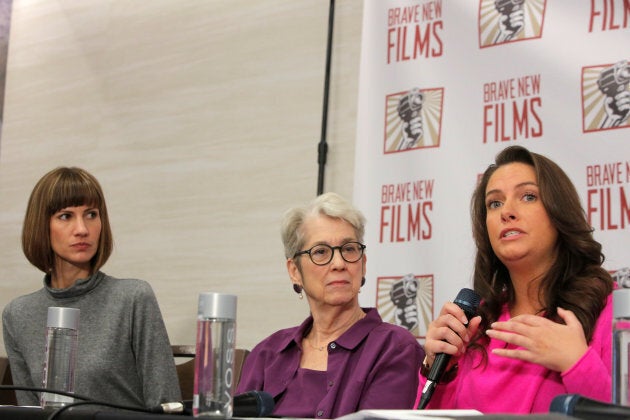 "The people of this country, in a decisive election, supported President Trump, and we feel like these allegations have been answered through that process," press secretary Sarah Huckabee Sanders told reporters on Monday.
Trump reportedly also is trying to cast doubt on the authenticity of the infamous 2005 "Access Hollywood" recording of him bragging about sexual assault.
Igor Bobic contributed reporting.
This article has been updated to include Gillibrand and Warren's responses to Trump.
CORRECTION: A previous version of this story misidentified Senate Minority Leader Chuck Schumer as majority leader.