When Canada scored two dramatic goals in the last few minutes of a high-stakes game against Sweden in the World Junior Hockey Championship final, a sea of fans nearly lost their minds.
Contrasting the celebration was of course the losing side: a defeated group of Swedish teenagers, many crying, who had come incredibly close to victory only to lose their last match.
No gesture better encompassed that frustration than captain Lias Andersson tossing his silver medal into the stands immediately after having it placed around his neck.
As the hockey saying goes, you don't really win the silver, you lose the gold. It can feel an awful lot like a consolation prize.
Andersson's reaction to his team's loss received mixed reactions from viewers.
For some, it was the sign of being a sore loser and poor sportsmanship.
"Lias Andersson has a lot to learn. Passion runs high but you have to control your actions sometimes. He came across a very sore loser showing zero respect to the competition & oppostion," one tweet said.
"I know you're just a kid but grow up! I hope the fan who caught it sends it back to him," said another.
Others defended the 19-year-old hockey player and argued that he had every right to react emotionally to his team's loss.
"Damn the kid's already gotta be seen crying on national tv give him a break," one user wrote.
"As media we complain that our athletes use cliches and show no personality, but then when they do show their human side with emotion and personality we throw them under the bus," sports analyst Corey Hirsch also tweeted.
Andersson later defended his actions. A Swedish official had retrieved his medal from the stands but he maintained that he didn't want it.
"The guy in the stands wanted it more than me, so I gave it to him. I'm just going to have it home in some box or whatever so he wanted it more than me," he said.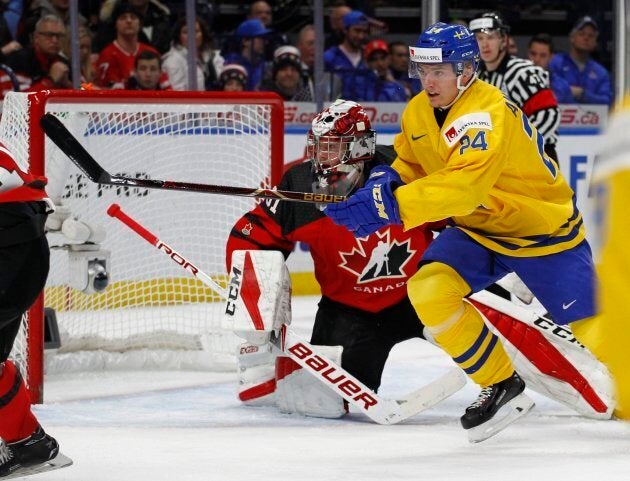 It's easy to forget that even though they're playing on such a big stage, the players on the world junior's teams are still very young and play under an enormous amount of pressure.
"His actions spoke more about a young man's caring, his impulsivity and his upset, and less about the sportsmanship of the game and the class that Team Sweden brought to this world championship."
It's a particularly bitter defeat for Sweden, who also lost their last match of the unofficial under-18 Ivan Hlinka tournament in 2015 and the official world under-18 championship in 2016.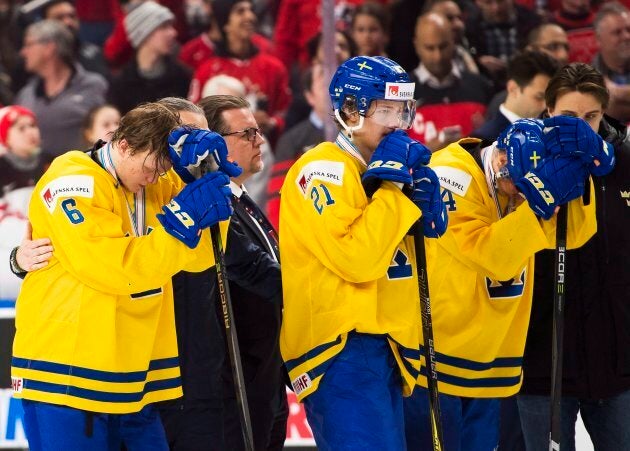 "I think we deserved this, it's a great tournament. We lost the final in U-18 Worlds, we lost the final in Ivan Hlinka. We lost the semis in the under-17 so this group has been through a lot and this was kind of our last chance so this sucks," Andersson said, after the game.
He added that he didn't want to add another silver medal in his collection to gather dust.
"I have a silver medal from the U-18 Worlds and I haven't checked it in two years since I lost last time so I won't regret it."
With files from The Canadian Press