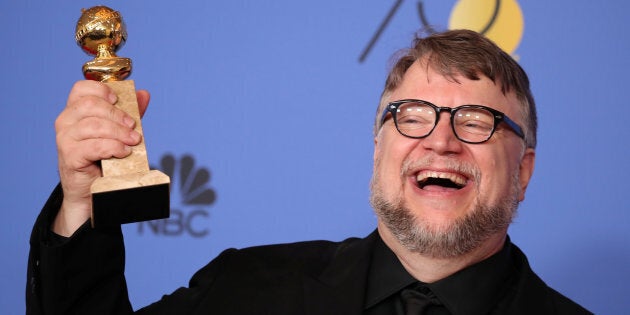 The report, titled "Inclusion in the Director's Chair?" examined the top-grossing 1,100 films and 1,233 directors from 2007 to 2017. Of those films, only four per cent of the directors were women, 64 of them were black or African American (and of those, just four were black women) and 39 were Asian or Asian American (of those just three were Asian women).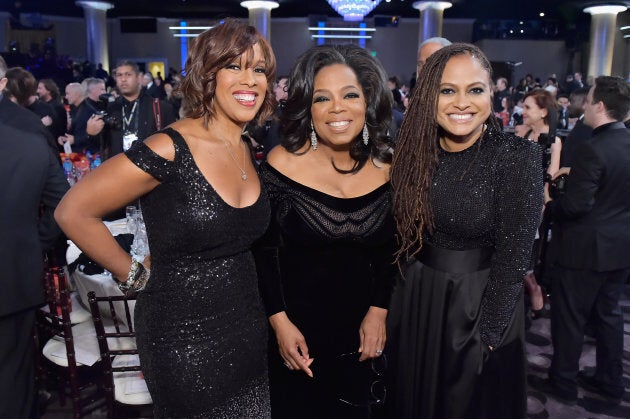 In addition, the report found that age did not limit male directors, as they directed from their 20s to their 80s, whereas women began directing, or were afforded directing opportunities, from their 30s to their 60s. This meant that male directors had the opportunity to direct more films than women during their careers — while men directed between one and 15 films over this period, women made, at most, four films.
The disparity between women and male directors in Hollywood was also on Natalie Portman's mind when she presented at the Globes.
When it came time for the Oscar-winner and filmmaker Ron Howard to announce the nominees for Best Director, Portman noted the nominees were all men. "Here are the all-male nominees," she said, before she and Howard listed off nominees Martin McDonagh, Christopher Nolan, Steven Spielberg, Ridley Scott, and winner Guillermo del Toro.
As Deadline noted, "[Portman] did not mention it but was likely thinking the omission of Greta Gerwig for 'Lady Bird' and Patty Jenkins ('Wonder Woman')."
The University of California report also noted the types of films supported by each studio in Hollywood. "Universal Pictures was the most likely to release a film with an Asian director. Lionsgate had the most released by a black director," where 15 of 18 of Lionsgate films were directed by Tyler Perry, Teen Vogue noted.
The site also reported that "Walt Disney Studios didn't have a single black director attached to any of its top-grossing films analyzed by the report, but it does have the upcoming 'Wrinkle in Time' adaptation spearheaded by Ava [DuVernay]."
When it comes to feature films and television programs shot in Canada, men are involved with directing at least 84 per cent of the available work.CBC News
This report comes at a time when Hollywood is in the midst of gender restructuring, ensuring more and more women are allotted roles of power and given diverse opportunities, though certain individuals, like producer and screenwriter Shonda Rhimes, are asking for words and terms of inclusion and normalization as opposed to using the term diversity.
"Shonda really does not love the word diversity... she talks about abandoning the word diversity and replacing it with normalizing," "Scandal" star Kerry Washington said during a Vulture Festival L.A. panel last November.
The report helps acknowledge the claims made by women in Hollywood, like Oscar-winner Meryl Streep, who said that there aren't enough opportunities afforded to women.
"If the boards of the company were half female, there wouldn't ever have been payoffs to anybody... none of this — the shenanigans wouldn't have occurred," Streep told BuzzFeed News in December, referring to Hollywood players such as Harvey Weinstein and Kevin Spacey, who have been accused of abusing their power to harass and assault women and men in the industry.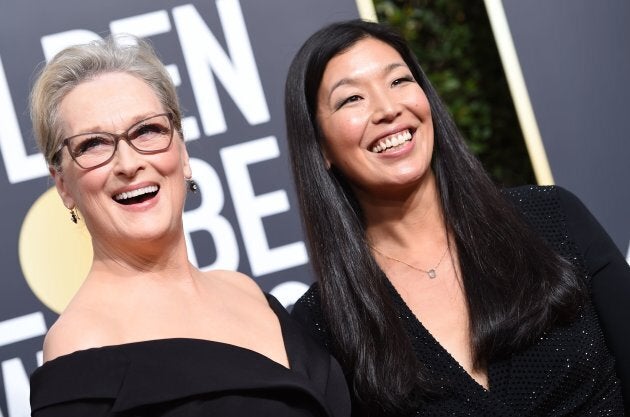 But these disparities don't just exist in a Hollywood bubble.
In 2016, the University of Melbourne released findings from their report, which found that women in Canada accounted for less than 20 per cent of working directors. "When it comes to feature films and television programs shot in Canada, men are involved with directing at least 84 per cent of the available work, if not more, according to a report on gender inequality amongst Canadian directors," reported CBC News.
In 2015, Women in View released a study examining the same issue. The study, titled "Women in View on Screen," stated, "(Canadian) women are not only an unacceptably small minority of those employed in these positions, but also they are least present where the financial power is the greatest."
The study also noted that, "Only 17 per cent of the largest 91 feature films financed last year by Telefilm Canada, the federal government's film financier, were directed by Canadian women," reported the National Post.