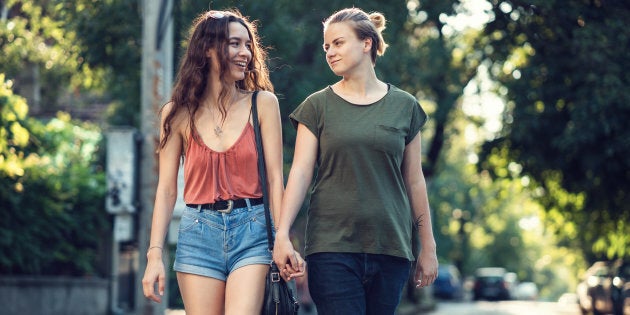 Having sex with anyone can mean you might contract a sexually transmitted infection (STI), but according to a new study, most queer girls don't think sex with other girls counts.
Researchers from the U.S. non-profit group Centre for Innovative Public Health Research, led the study, along with those from the University of British Columbia and City University of New York.
They interviewed 160 cisgender girls in the U.S. between the ages of 14 and 18 who identified as either bi, lesbian or part of another sexual minority in online focus groups.
They learned that most teens knew little about how to have safe sex with other girls, and few used any sort of protection. One said she "literally had never heard of dental dams," which are thin sheets, often made of latex, that protect against STIs during oral sex.
One of the girls interviewed in the study said she had never thought that sex with a female partner carried a risk of infection.
"Like laying down a sheet of plastic over her vagina just doesn't seem very sexy."18-year-old participant in study
Several were also of the opinion that women were more trustworthy.
"Because there was no risk of pregnancy with female partners, these sexual relationships were generally conceptualized as less risky than sex with boys," the study authors wrote.
And those who knew about protection left it out during sex because they thought it would be less pleasurable or ruin the experience.
"Like laying down a sheet of plastic over her vagina just doesn't seem very sexy," one 18-year-old girl wrote.
The study authors cited evidence that lesbian and bisexual adolescent girls have a higher risk of STI infection and even pregnancy compared to their straight peers.
And it's not just teen girls that self-identify as queer that could be at risk.
While 3.5 per cent of Canadians between the ages of 13 and 29 identified as a sexual minority in one survey, 7.5 per cent of the heterosexual respondents said they'd had sexual experiences with those of the same sex — potentially widening the pool of girls who may not be protecting themselves.
Young people ages 15 to 24 make up half of the new STI diagnoses in the U.S. every year, but are only a quarter of the country's sexually active population, according to the Centres for Disease Control and Prevention.
And in Canada, the rate of reported chlamydia infections among girls 15 to 19 was the second-highest of any group in 2013, second only to women ages 20 to 24.
Many of the study participants said that their sex education didn't tell them much about sex with girls.
"...When my girlfriend asked her sex-ed teacher how lesbians should have safe sex the teacher looked at her and just moved on. No one teaches lesbian teens about stuff like that," one 18-year-old wrote.
Study senior author Elizabeth Saewyc said the research shows that school curricula need to be more inclusive so that queer girls can make healthy sexual choices.