If you're a January gym-goer who routinely throws in the towel on Feb. 1, we don't fault you. It's hard staying motivated when the only immediate reward for doing 20 burpees is a water break and a pat on the back.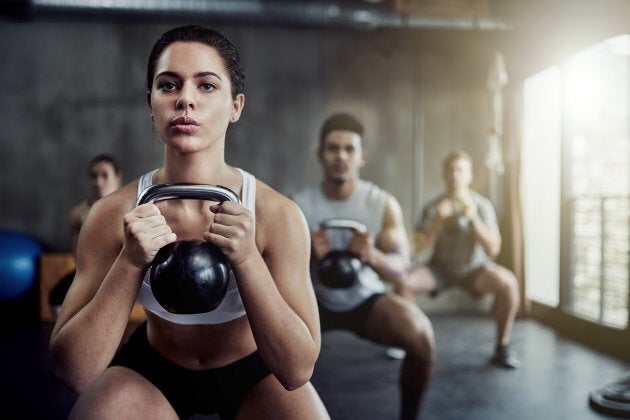 For many people, that lack of motivation can stem from sheer boredom because, let's be honest, repetitively swinging a kettle bell isn't exactly riveting stuff. Fortunately, the workouts available now are anything but boring. Think spin bikes that actually mimic outdoor cycling, transforming into a mermaid, and a workout that involves getting hitched to a bungee cord.
Set yourself up for success and allow us to introduce you to some of the most interesting workouts out there — new and old.
At this rate, you may never feel dread about going to the gym again.
Originally developed for physical therapy, aqua spinning has become quite the fitness trend. In boutique studios like NYC-based AQUA, state-of-the-art bikes are placed in a pool for classes like Mantra Flow, which involves five sequences of repetitive movements, and Plyo, which combines fast-paced exercises on and off the bike.
Aqua spinning is currently offered at Sports Montreal, but it's only a matter of time before underwater cycling studios grow in popularity.
If the idea of swimming laps isn't appealing to you, try putting on a monofin and re-enacting "The Little Mermaid" while burning tons of calories. The whimsical workout isn't for everyone, but it's definitely a departure from the gym. You'll be surprised how challenging it is to learn how to swim with a tail.
Realize your childhood dream at the original mermaid swimming school, Aquamermaid. Classes are available in Toronto, Edmonton, Montreal and Ottawa.
Those who took an interest in "The Real Housewives of Toronto" will know all about cast member Jana Webb's wildly popular proprietary workout, Joga. Webb, who is an athlete herself, noticed that professional athletes typically had trouble doing traditional yoga poses, but she wanted to incorporate the discipline into her client's training. Joga (yoga for jocks) was born of that desire, seamlessly blending yoga with the biomechanics of sport.
Webb recently opened Joga House in Toronto, but given its growing popularity, we'll likely see more Joga studios opening across the country. Stay tuned.
Enjoy the sensation of flying? Then this bungee workout is for you.
Participants are hooked up to a harness and bungee cord and guided through a workout that will see you doing squats while standing on a wall and push-ups while suspended upside down. Coordination and balance are at the core of this workout.
The quintessential surfer body is long, lean, and hard to achieve. That's why stationary surfboard workouts gained so much traction after they were featured on "Shark Tank" in 2012. The workout challenges participants to stand and squat on a stationary surfboard that tips and shakes. Your core will thank you for this workout.
We can almost guarantee you won't notice you're working out in this high-energy class. You'll be sweating it out in heels and learning the choreography to Beyoncé's latest hit. Cardio is the name of the game, and we can promise you'll feel a boost of confidence when you master a routine in three-inch heels.
Army of Sass is a great place to begin your fitness journey in heels, with dance classes available throughout Ontario, Alberta and B.C.
Using a rowing machine is typically a solitary activity, but turns out rowing makes a great group class. Combine that with a high-energy instructor and good music and you've got a pretty entertaining full-body workout.
8. Cycling on a RealRyder Bike
If you've never been on a RealRyder bike, you're going to feel a little unstable at first. These two-wheel vehicles are basically stationary bikes that simulate a real biking experience, allowing you to lean from side to side and steer. Interestingly, RealRyder bikes aren't new and have kept a relatively low profile.
Group cycling classes on RealRyder bikes are available at Toronto's CYKL and Halifax Yoga.