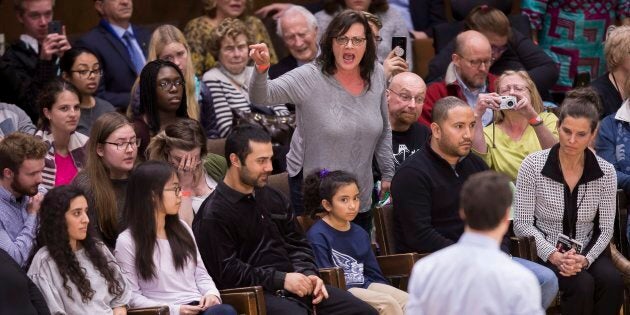 Prime Minister Justin Trudeau seized another occasion Thursday to show his critics he can turn their public disruptions into political opportunity.
"Stay, ma'am. You are more than welcome to stay," Trudeau told a woman who had shouted at him and interrupted his town hall in London, Ont.
"Please let her stay, if she wants to stay and listen," he told police officers who were escorting her out after she had stood up to leave.
The woman, a self-described suffragette, had interjected to yell first about M-103 — a motion condemning Islamophobia that some believe curbs their right to criticize Islam — and then about accepting ISIS fighters back in Canada.
Trudeau had been busy answering a young boy's question of how the prime minister deals with "haters" — people who disagreed with him.
"Well, I think it starts from a place of respect," the prime minister had explained. "Defending everyone's rights means defending everyone's rights to express themselves, whether or not you agree with them or not.
"So if someone has decided they don't like me," Trudeau said, "or they don't like certain policies, I will allow them to, well, it's not up to me to allow them, but I will try to listen to them respectfully and try to understand their point of view and where they are coming from," he had just told the crowd.
The prime minister had gone on to say that he is strong enough in his own principles and values and in his own capacities that he isn't too worried about what people think of him. It is something, he said, he learned long ago, when he was a boy and his father, Pierre Elliott Trudeau, was prime minister, that people would say and feel many things towards him because of their sentiments towards his father.
Then, as if on cue, a woman in the second row stood up, waved her arms around, and started shouting at the prime minister about "free speech."
"You have no right to bring in M-103," she lashed out.
"Ma'am, I'm going to ask you to respect the people in this room," Trudeau said to her.
But she wouldn't sit down, reaching in her pant pocket she unwrapped a purple and green suffragette banner that appeared to identify her as a 'Suffragettes Against Silence' member.
"Do you know that this year is the 100th anniversary of women voting federally here, and what are you doing? You are bringing in ISIS, that have women as sex slaves," she said, while pointing her finger and the crowd booed.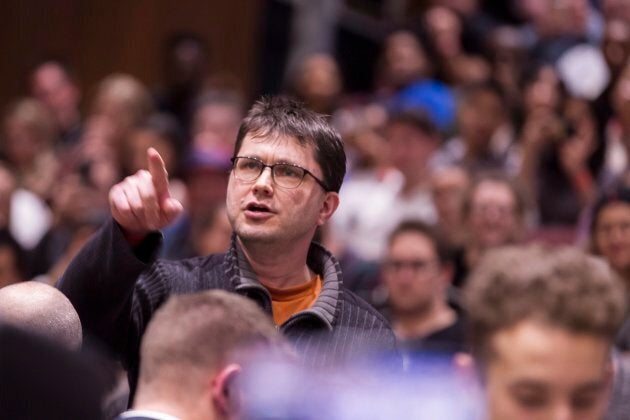 "Ma'am this is not the spirit of dialogue," Trudeau responded, as she accused him of staging the town hall and of taking university students' questions but not those from regular folks.
He mulled over the idea of responding to her.
"One question, what is your one quick question?" he asked. "How do I feel about critical discussion?"
"ISIS," she responded, referring to the federal government's decision to try to "rehabilitate" former fighters. "You're an ex-bouncer, you're not a psychologist are you?"
Trudeau didn't appear to want to get into that discussion.
PM a​​​​​​sks crowd to applaud heckler
"Ma'am, you know what? You are taking time away from the people who have questions and are willing to listen, and you are not. You have made yourself heard," he said. Then, as he has done elsewhere on his cross-country tour, he asked the crowd to give her a round of applause.
"For her passion for her country, and her willingness to stand up," he said.
Later, after he fielded questions on the biggest challenges he faces as a prime minister — from women's upward mobility to artificial intelligence — another heckler stood up twice to shout at him. Trudeau did not entertain the man's interruption, which was near incomprehensible. He was later escorted out of the session.
The prime minister's town hall tour continues next week in Quebec City.