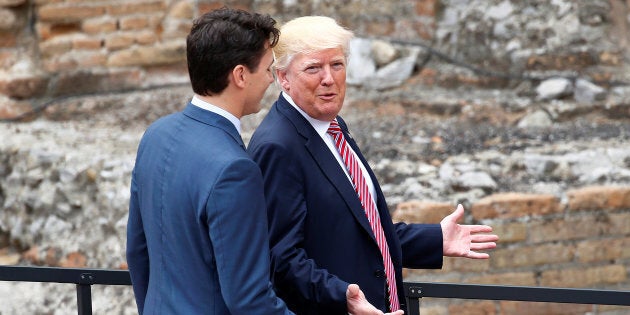 Prime Minister Justin Trudeau says he won't weigh in on U.S. President Donald Trump's reported description of Haiti and African countries as "shitholes."
At a press conference in London, Ont. Friday, CTV's Joyce Napier said it was widely reported that Trump used a word she would "dare not repeat" to describe those countries, as well as some Central American nations, during a White House meeting on immigration.
When asked to share his reaction, Trudeau highlighted the large Haitian community in his Quebec riding of Papineau as well as Canadian generosity in the wake of the earthquake that devastated Haiti exactly eight years ago Friday.
"This remains the way Canada engages with countries around the world," Trudeau said.
"I think you all know that I'm not going to opine on what the president may or may not have said. I will simply repeat that Canada is a country of openness, of respect, and we will continue to be there to support friends around the world and to welcome people who will contribute to building a stronger country."
Trudeau was also asked about comments he made during a town hall in Nova Scotia this week, where he referred to the U.S. as a "bit of an unruly neighbour." That question spurred the PM to offer more of an assessment of Trump.
"We know that the president prides himself, to a certain extent, on being unpredictable, on being a bit of a disrupter," the prime minister said.
He added that he will continue to work on keeping a constructive relationship with the U.S., while "at the same time being very clear who we are as Canadians, on what we stand for and what our interests are."
Trudeau's government is currently in the throes of negotiations with the U.S. and Mexico to save the North American Free Trade Agreement.
We know that the president prides himself, to a certain extent, on being unpredictable, on being a bit of a disrupter.Prime Minister Justin Trudeau
Trudeau has doggedly refused to publicly criticize Trump by name for incendiary statements and policies south of the border that fly in the face of his own government's trumpeting of diversity as a source of strength.
Those not facing the glare of the political spotlight are evidently finding it easier to call Trump out.
Former prime minister Kim Campbell tweeted Friday that Trump's reported remarks were "abominable and ignorant."
Former governor general Michaelle Jean, who was born in Haiti, called the president's reported words "an insult before humanity."
With a file from The Canadian Press