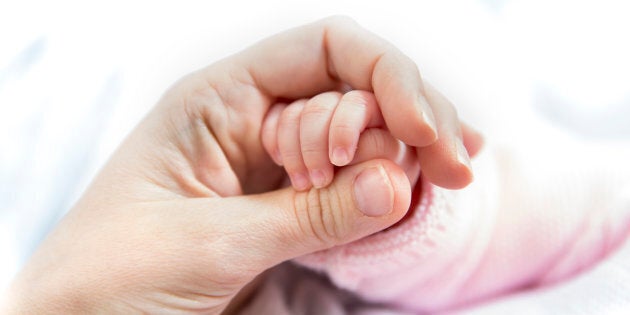 Not many women can say they delivered their own baby, but Heidi Rand can.
The Burlington, Ont. mom and her husband, Joe, were en route to Mississauga's Credit Valley Hospital early Monday morning in anticipation of their second child's arrival. However, it appears the infant had plans of her own, as Rand's water broke while they were still 25 minutes away from the clinic.
"It felt so incredibly surreal," the mom-of-two told Metroland, according to the Toronto Star. "My head was in two places. One, I'm thinking, 'Is this really happening in my car?' But then, your instincts kick in and you're literally doing everything you can to keep your baby safe."
Because Rand's labour was so quick, the mom was forced to deliver her daughter on her own as her husband pulled to the side of the road near Oakville and called 911. Operators advised Joe on what to do next.
Mila was born at 12:10 a.m., weighing a healthy seven pounds, eight ounces. She is now the younger sister to the couple's 20-month-old son, Jackson, who took a lengthy 36 hours to be born, compared to Mila's roughly one-hour labour.
While there's no word yet on whether or not the family will get free lifetime use of Highway 407, the Rands are just happy their daughter is now safe and sound.