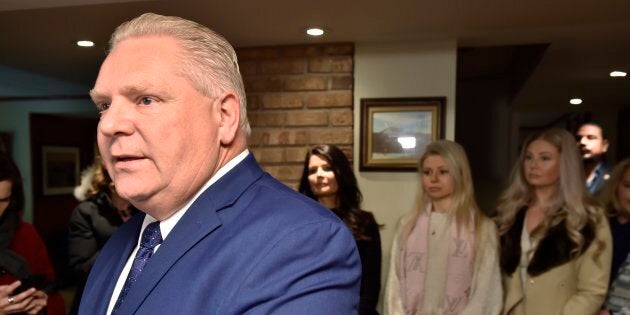 Former Toronto city councillor Doug Ford is running for the leadership of the Ontario Progressive Conservatives.
He made the announcement at a press conference in the basement of his mother's home Monday.
"The party needs strong leadership," Ford said. "Someone who is ready to clean up the mess and lead us into the June election."
The older brother of former Toronto mayor Rob Ford, he served on Toronto city council from 2010 until 2014. Ford later ran for mayor against John Tory, stepping in as the flag-bearer for the so-called "Ford Nation" after his brother was diagnosed with cancer.
Ford finished second to Tory in 2014 and announced last fall he would be seeking a rematch for the mayor's chair this October. He said Monday that he will serve Torontonians better as premier.
"I had every intention of running for mayor of this great city but I can't watch the party I love fall into the hands of the elites," he said.
"The elites have shut the door on the grassroots. The foundation of our party. Our party cannot go with a tested leader in this crucial time. If we lose this election, I don't know how the average people in Ontario will recover."
'I can't watch the party I love fall into the hands of the elites'
Ford said he would give a voice to people who have been ignored and are "suffocating" under "high taxes and big government."
He is seeking to replace Patrick Brown, who stepped down last week amid sexual misconduct allegations.
The Ontario PC party announced last week that the party will hold a quick leadership contest, sometime before March 31. There is little time to waste as Ontario voters head to the polls for a provincial election in June.
MPP Vic Fedeli, who was named interim leader by the PC caucus last week, has already announced he will seek to keep the job permanently.
Two star PC candidates are also being touted as potential leadership contenders. Lawyer and finance executive Caroline Mulroney, daughter of former prime minister Brian Mulroney, and former Postmedia executive Rod Phillips are both being asked if they will jump in the race.
Former MPP Christine Elliott, who finished second to Brown in 2015, has also been cited as a possible candidate, as has former foreign affairs minister John Baird.
In 2013, Rob Ford predicted his brother would be Ontario premier one day. The patriarch of the Ford family, Doug Ford Sr., was a MPP in the government of Mike Harris from 1995 to 1999.
With a file from Mohamed Omar