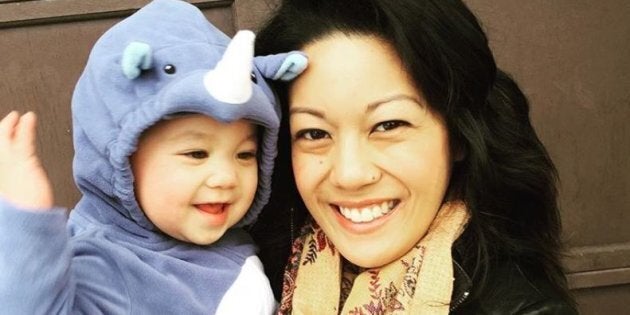 Name and partner's name: Myra & Rick Garrett
Occupation: Health and wellness coach
Years trying to have her second baby: Three
When the "mom gene" kicked in: I never really thought about marriage or having a family until I found out I was pregnant with my son. I was only 20. I was young and didn't focus on my health at the time. After he was born my entire life changed and for that I am forever grateful. If I didn't become a mother who knows how my life would have ended up today. Being a new mom [was] so rewarding and I wanted to eventually expand my family.
The infertility diagnosis: With my first son, my boyfriend and I at the time weren't trying. I didn't think much of it because I was so young. However, as I got older and once I got into a more serious relationship, the thoughts of wanting more children came to mind.
My husband and I tried to conceive my second (his first) for 36 [period] cycles. I was diagnosed with unexplained secondary infertility after nine months of trying naturally.
My doctor had given me a requisition for a sonohysterogram. She never actually told me my diagnosis until I read the requisition. It had said something along the lines of "patient with secondary infertility." When I read that, my heart skipped a beat because it was in bold letters — INFERTILITY. So many questions started scrambling through my head. I pulled out my phone and started Googling everything I could on it.
The reaction: It wasn't much of a surprise because I always had a feeling deep inside that something was wrong. I started to track my cycles and to me it seemed longer than normal. My cycles generally lasted anywhere from 35 to 45 days, but my doctor said that as long as I got a period within that time frame it was considered "normal" for my body. Even though she reassured me, I still had insecurities because my mom and sister both dealt with infertility as well.
The plan B: We did three back-to-back intrauterine insemination procedures. I was on the hormonal injections Gonal-f and Menopur. When the three procedures failed, we were referred to an IVF specialist in Toronto. We completed our initial testing and were set to go for hormonal therapy and embryo retrieval but, unexpectedly, I became pregnant.
Reaction to conceiving her second (and third) child: When we conceived our second it was an absolute shock. The first fertility doctor we met said that we only had a three per cent chance of ever conceiving naturally and medical intervention would be the only way.
Since we felt that conceiving our second was just luck of the draw, we didn't think it would be possible to conceive a third. We were a little upset that we would have to start the whole IVF process over again, but we were prepared to go through with it. However, when I was six months postpartum, we weren't trying nor were we preventing and I became pregnant with our third naturally.
The biggest challenges: To be honest, our infertility [journey] was extremely exhausting mentally, physically and financially. Mental health is so important during this time because it's so easy to get lost in your thoughts and emotions when you want something so bad, but you have no control over it.
I didn't seek any counselling because I felt like there was some kind of secret shame to being unable to conceive, but I did find support groups online, especially through Instagram.
How her marriage changed: The biggest challenge for my husband and I was communication. Males and females experience infertility in different ways and they express their emotions differently. The process definitely challenged our relationship. Now we try to be more open, listen and try to respond more effectively.
How they coped: My husband is the type to be strong for the family. He held a lot in and tried to be positive because I was in such a dark place. I ended up closing myself off from a lot of family, friends, and social events. [However,] I did find a community online through Instagram with women and couples who were also struggling [with] infertility. We scheduled meetups, shared stories, and we still remain good friends.
Talking about infertility: I personally wished that people didn't compare my story to other people they know. Every couple is different, each story is different, everyone's body works differently. Just because Suzy's friend's cousin's aunt conceived by going on vacation [doesn't] mean that it would work for me too. I was diagnosed with unexplained infertility. There's no specific treatment to make it work.
What she wants other couples to know: Be open about your feelings and listen with an open heart and mind. Infertility is such a delicate process and it's very exhausting on both parties. It's not only important to remain healthy physically, but also mentally. Your struggles will make you stronger and it is just preparing you for the best ride of your life. Stay hopeful and never lose faith.