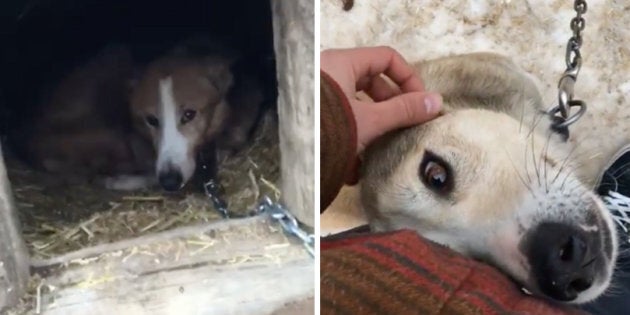 An animal welfare organization in Ontario says it is investigating reported "concerns" related to a dog sledding operation in the province.
The Ontario SPCA launched the probe a day after videos were posted on social media showing chained dogs near Moonstone, Ont. sparked outrage online.
Natasha Guerriero and her boyfriend Dylan Blake shared clips of their experience on a recent dog sledding trip organized by Toronto Adventures, a company that offers outdoor activities such as canoeing and snowshoeing.
Blake said they saw the dogs tied up and forced to stay in a "a cruel and sickening environment." A worker told them the dogs stayed there "all day and all night," he added.
"This is mass cruelty towards harmless and innocent animals," he wrote.
Guerriero said they were told not to get too close to the dogs as they were not washed very often. She said "all the dogs were super skinny and were begging to just be loved."
The OSPCA told HuffPost Canada in a statement that it could only provide limited details as its investigation is ongoing.
"The Society takes all reported concerns of animal cruelty seriously," wrote Melissa Kosowan, the group's acting associate director of communications.
"As the investigation progresses, we will provide regular updates regarding the welfare of the dogs," the organization said.
Guerriero and Blake's posts have been shared shared tens of thousands of times on Facebook, eliciting angry comments and calls for the companies involved to be shut down.
The company said it takes "pride in ensuring that no animals are ever mistreated for the purposes of any of our events or the events of companies we subcontract."
"We've been made aware that one of the dogs had a sore on his/her leg via a concerned participant in one of our events," the company wrote. The statement added that Toronto Adventures has contacted both the OSPCA, as well as Windrift Kennels, the company it worked with to provide the dog sledding service.
"We will be requesting an additional inspection of Windrift Kennels to assure that their dogs are healthy and being treated appropriately," the company wrote.
In a similar statement on the site's "About Us" section, the company says it will sever ties to Windrift Kennels if any of its dogs are found treated poorly.
HuffPost Canada has reached out to Toronto Adventures and Windrift Kennels for comment.
The OSPCA says anyone with information related to the investigation should contact the organization 310-SPCA (7722).