A father of three young girls who were abused by former USA Gymnastics and Michigan State University doctor Larry Nassar attempted to attack the disgraced physician in court on Friday morning.
Randall Margraves was standing alongside two of his daughters, Madison and Lauren, in a Charlotte, Michigan, courtroom as they read their impact statements. When they finished, Margraves asked Judge Janice Cunningham if he could say something to Nassar.
"You son of a bitch," Margraves said to Nassar, adding a request to Cunningham: "I would ask you to as part of the sentencing to grant me five minutes in a locked room with this demon. Would you do that? Would you give me one minute?"
When Cunningham told Margraves that she could not grant that, the father of three lunged at Nassar, who was sitting only a few feet away with his defense attorneys. Law enforcement officers tackled Margraves to the floor before he could reach Nassar.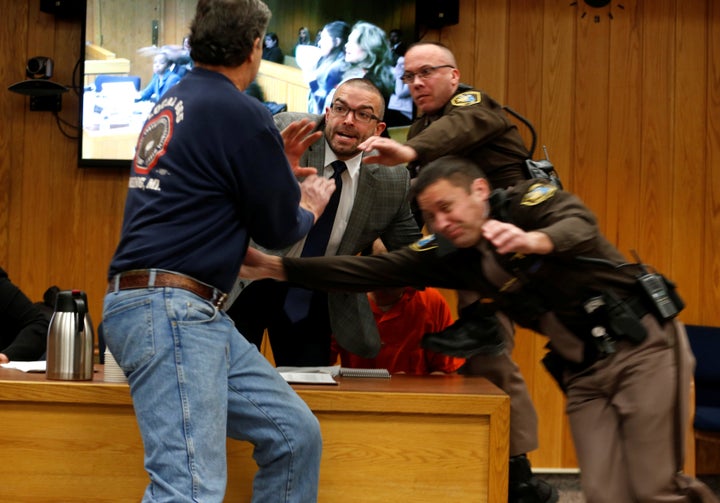 Several officers escorted Margraves out of the courtroom in handcuffs. As he was being led out, the father looked at the police and asked: "What if this happened to you guys?" His two daughters and wife were sobbing as Margraves was taken out of court.
"You cannot behave like this. This is letting him have the power over us," Assistant Attorney General Angela Povilaitis said to survivors and family members as Margraves was escorted out. "Use your words and your experiences to get him to change. Do not use physical violence."
Watch a clip of the incident above.
Nassar has been accused by over 265 young girls and women of serial sexual abuse under the guise of medical treatment. His victims include Olympic gymnasts Aly Raisman and Simone Biles, along with dozens of former Michigan State University athletes. His youngest victim was 6 at the time of the abuse.
When court was back in session, Cunningham addressed the courtroom and called the attack a "quick eruption of violence."
"What just occurred in the courtroom was scary and caused a level of discomfort. I'm sorry that happened," she said.
"I know it is hard but I need to ask all of you to try and not react in any physical way. It is not appropriate, it does not send the right message," Cunningham continued. "It actually just causes more pain and more discomfort and certainly we have enough of that in this courtroom as a result of the defendant's actions."
Later in the day, Cunningham said there was "no way" she would hold Margraves in contempt of court. The father of three apologized in a statement to the court, telling Cunningham that today was the first time he had heard his daughters' impact statements.
"I lost control and I apologize a hundred times. ... I'm embarrassed," he said. "I'm not here to upstage my daughters, I'm here to help them heal."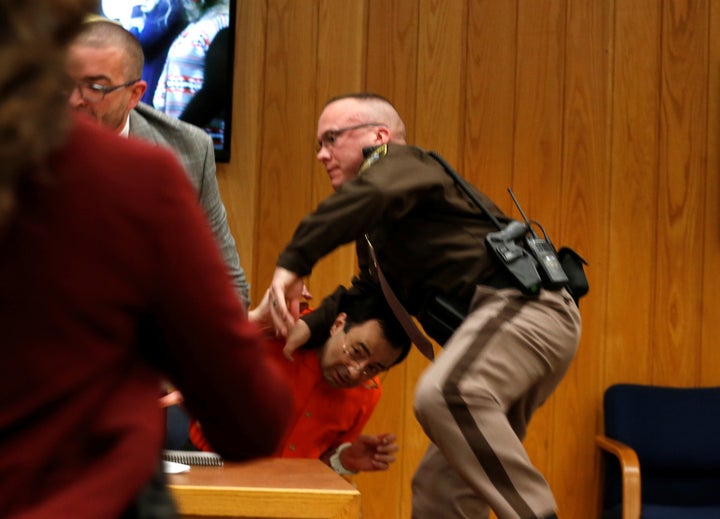 Nassar pleaded guilty to 10 counts of criminal sexual conduct in the first degree in November 2017 and was sentenced to 40 to 175 years in prison last week on seven of those charges. A sentencing hearing for the remaining three counts began Wednesday. A minimum of 25 to 40 years is expected to be added to Nassar's sentence. Nassar is already serving 60 years for child pornography charges.
Lauren's and Madison's third sister gave her victim impact statement during Nassar's first sentencing hearing in Ingham County Court, which concluded on Jan. 24.
Lauren was the first of the two sisters to deliver her impact statement in court on Friday.
"I trusted you, my parents trusted you, my two sisters who also had unfortunate experiences with you trusted you," she said. "My parents are heartbroken. All three of their children are victims of you. ... The guilt they have will never go away."
Madison was much more emotional as she read her statement to the courtroom. "Like many other survivors, I was assaulted by Nassar and didn't even know it," she said.
Fast-forward to minute 26:30 to hear Lauren's and Madison's impact statements before their father lunged at Nassar.
This post has been updated with more details about the hearing, the attempted attack and Margraves' apology.